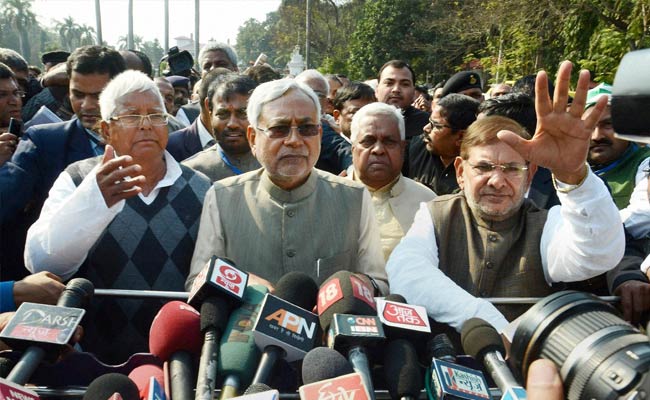 Days after being ditched by Nitish Kumar who formed a coalition government in Bihar with the BJP, RJD chief Lalu Prasad today appealed to former JD(U) president Sharad Yadav to undertake a nationwide tour to defeat "communal" forces that have fanned out in the country. Sharad Yadav is said to be "upset" over not being taken into "confidence" by the chief minister before he decided to align with the BJP.
"The kind of communal atmosphere is prevailing in the country, we desperately need politicians like Sharad Yadav ji who believes in secular fabric of the nation," he said here. 
"I will appeal Sharad ji to undertake a nationwide tour and throw all his energy into defeating the communal forces that have fanned out in the country," he said. 
Lalu had yesterday said that he talked to Sharad Yadav over phone and "take command of this fight." In a series of tweets, Lalu said he and Sharad Yadav have struggled together and the country needs another struggle. 
In a sudden development, Kumar had quit as Chief Minister on Wednesday last, dumping the grand alliance with the RJD and the Congress. He formed a new government next day with the BJP. Sharad has so far not commented publicly on the Bihar developments. 
Meanwhile, CPI leader D Raja who met Sharad here today and said that the former JD(U) chief does not approve of Nitish Kumar's move to dump the 'grand alliance' and form government with the BJP. Raja said Yadav is "upset and disturbed" over the developments in Bihar. 
"I understand he (Yadav) was kept out of the decision," the CPI leader told PTI. 
Describing Kumar's action as "betrayal of the people's mandate" in Bihar, Raja said, "in this moment of crisis, Yadav should stand up and lead the fight against evil designs of BJP-RSS and communal forces." 
Notably, senior Congress leader Ghulam Nabi Azad and CPI(M) general secretary Sitaram Yechury had met Sharad Yadav on July 28, the day JD(U) chief Nitish Kumar won the confidence vote in the Bihar assembly. 
According to sources, Sharad Yadav did not approve of Nitish Kumar's move to dump the "grand alliance" and form a government with BJP in Bihar.
(With PTI inputs)