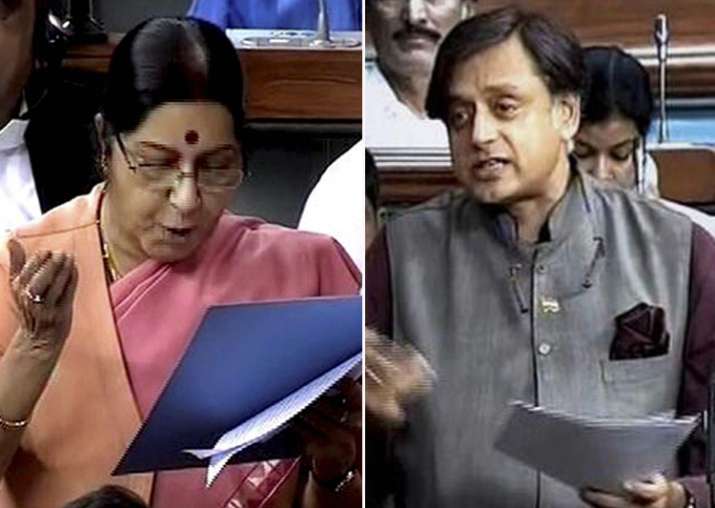 External Affairs Minister Sushma Swaraj today rubbished reports that Congress leader Shashi Tharoor will help the Narendra Modi government in drafting a statement on Kulbhushan Jadhav to be read out in Parliament. 
"There is no dearth of talent in my ministry. I have the assistance of very able secretaries," she said in curt tweet. 
She also posted the news report to which she was reacting. 
According to the news report, Tharoor, also former Minister of State for foreign affairs, will help the government draft the 'Statement of Solidarity' on the issue of Kulbhushan Jadhav. This statement will be adopted by both Houses of Parliament. 
"The request to draft the resolution came from Swaraj after Parliament today condemned Pakistan for sentencing Kulbhushan Jadhav to death," the report said. 
'Execution of Jadhav be 'pre-meditated murder,' Pakistan should consider consequences'
Earlier, Swaraj issued a strongly worded statement in both Houses of Parliament warning Pakistan that execution of the death sentence handed down to Jadhav would be taken as "pre-meditated murder" and Islamabad should consider its consequences on bilateral relations.
She said the charges against Jadhav, who was doing business in Iran and was kidnapped and taken to Pakistan, are "concocted" and the trial against him was "farcical", leading to an "indefensible verdict". 
"Let me state clearly that the government and the people of India would view very seriously the possibility that an innocent Indian citizen is facing death sentence in Pakistan without due process and in violation of basic norms of law, justice and international relations," she said. 
"There is no evidence of wrongdoing by Jadhav. If anything, he is the victim of a plan that seeks to cast aspersions on India to deflect international attention from Pakistan's well-known record of sponsoring and supporting terrorism." 
Questioning the trial, she said Pakistan had sought India's assistance to obtain evidence for its investigation and levelled ridiculous charges against senior Indian officials who had no connection to this issue. 
Thereafter, Pakistan linked providing consular access to India's acceptance of its position and and Indian response was 
constructive in the hope that some forward movement could be made, Swaraj said. 
"We pointed out that consular access to Shri Jadhav would be an essential pre-requisite in order to verify the facts and understand the circumstances of his presence in Pakistan. 
"Given this exchange, it is extraordinary that yesterday, a decision is suddenly announced awarding a death sentence in this case when previous exchanges with India itself underlines the insufficiency of evidencem" she said. 
"To make matters even more absurd, three hours after the death sentence was announced, the Indian High Commission received an official communication from the Foreign Ministry of Pakistan, reiterating the Pakistani proposal for conditional consular access. 
"That tells us a lot about the farcical nature of the alleged proceedings which have led to an indefensible verdict against an innocent kidnapped Indian," she asserted.
In the Rajya Sabha, Leader of the Opposition Ghulam Nabi Azad, while expressing outrage over the development, said the Indian government should provide Jadhav the best of the lawyers to ensure that the truth prevails. 
Responding to this, the External Affairs Minister said the government will not only ensure that Jadhav is provided with the best of lawyers in the Supreme Court of Pakistan but will also take it up with the President of Pakistan. 
"Whatever is necessary, we will do. We will go out of the way...," she said, adding that Jadhav was now "not only the son of his parents, but is the son of India." 
She also informed Parliament that a senior Pakistani leader has himself expressed doubts about the adequacy of evidence in the case. 
She said she has been in touch with Jadhav's parents and the government was extending its fullest support to them in this difficult situation. 
Parliament united in condemning Pakistan, justice for Jadhav
The opposition and the treasury benches in Parliament on Tuesday jointly expressed solidarity with Jadhav, who was awarded capital punishment by a Pakistani Field General Court Martial on Monday. 
As soon as the Lok Sabha met for the day, members cutting across party lines slammed Pakistan for awarding death sentence to Jadhav.
Leader of the Congress Mallikarjun Kharge wondered why the government remained silent on the issue. His remarks attracted the ire of BJP members who said the government was condemning the incident. 
Asaduddin Owaisi (AIMIM) urged the government to use its influence for the release of the Indian citizen.
Shashi Tharoor (Cong) asserted that the sentence was against all international norms. 
N K Premchandran (RSP), Vinayak Raut (Shiv Sena) and Saugata Roy (AITC) expressed similar sentiments. Maharashtra Chief Minister Devendra Fadnavis also wrote to Swaraj urging her to secure Jadhav's release.
'Jadhav's death sentence an assault on international laws and conventions'
Speaking on the issue, Tharoor slammed Pakistan for the death sentence and termed it an "assault" on international laws and conventions.
"What Pakistan is doing is not only an assault on India, it is an assault on international laws, international conventions that affect everybody. There are certain countries that finance and arm the Pakistani military. Those countries must be told by us that if this can be done to an Indian today, it can be done to one of their nationals tomorrow," Tharoor said in the Lok Sabha.
"The extremely important thing for us is to uphold the principles. Thirteen times this gentleman was denied consular access, which is a basic right. Geneva conventions have been violated by Pakistan... This is an extremely serious matter," he added.
Jadhav was "arrested" on March 3 last year by Pakistani security forces in the restive Balochistan province after he reportedly entered from Iran. Pakistan has alleged that Jadhav was "a serving officer" in the Indian Navy and deputed to the Research and Analysis Wing (R&AW).
The Pakistan Army had released a "confessional video" of Jadhav after his arrest.
India has acknowledged that Jadhav served with the navy but denied he has any connection with the government.