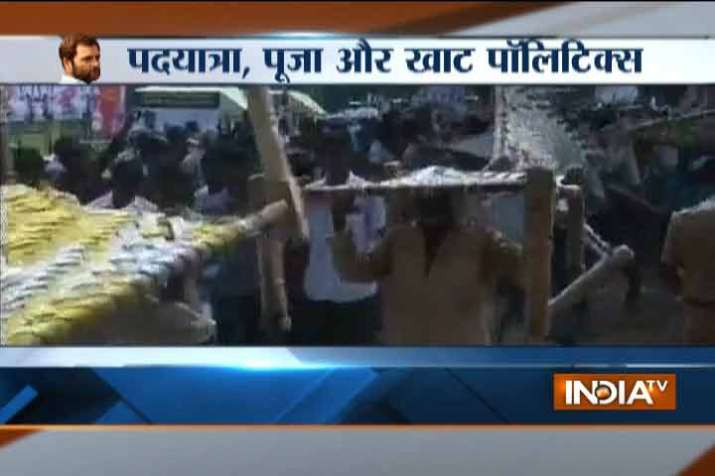 Commotion broke out as locals fought for Khatiyas (wooden cots) after Congress Vice President Rahul Gandhi's 'Khat Sabha' ended in Uttar Pradesh's Deoria today.
Over 200 cots were arranged for Rahul Gandhi's rally where Congress Vice President embarked on a 2500 km-long Kisan Yatra from 'Deoria to Delhi' in an attempt to revive Congress chances in the upcoming assembly elections in the state.
As soon as Rahul's rally ended locals thronged to take hold of cots and tried to snatch from each other's hold.
Reacting to the development, BJP spokesperson Sambit Patra said it clearly shows if Congress is unable to maintain discipline in a rally, how could you expect the party to run the UP government.
He also dubbed the 'Khaat Sabha' as flop adding that there was nothing substantial in Rahul Gandhi's speech. Patra said Congress has lost the plot ahead of the UP assembly elections.
However, UP Congress leader Pramod Tiwari said that the rally was successful and the people of UP will decide who comes to power in the state.
Earlier, Addressing villagers in Deoria, Rahul Gandhi attacked PM Modi alleging his government has waived off loan of industrialists whereas Congress during ts regime had waived off loans of farmers.
Gandhi said he has started Kisan Yatra so that there is pressure on PM to solve the farming crisis in India.