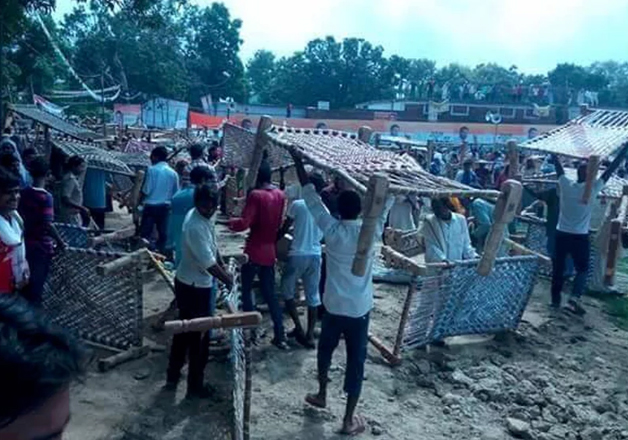 Apprehensive of the gathering turning Congress vice president Rahul Gandhi's 'Khaat Sabha' in Uttar Pradesh's Mirzapur turning into a repeat of Deoria and Ambedkar Nagar, party leaders could be heard making announcements soon after his speech appealing to people not to take away the cots as they leave. 
As soon as the Congress leader finished his address, people started running away with the cots. However, a Congress leader immediately took to the dais and made an announcement discouraging locals not to do so.
"Khaat chhodke chale jao (leave the cots and go)," a Congress leader announced using a mic after Rahul's speech. 
The crowd, however, turned uncontrollable. Few local Congress workers rushed to stop people running away with the cots and eventually managed to recover them.
Some people later expressed their disappointment because they could not get any cots for themselves or their families.
This was the third such incident during Rahul's ongoing Kisan Yatra aimed at strengthening the Congress party in the run-up to the Assembly polls slated for early next year. 
The first such incident took place on the very first day of the 'Khaat Sabha', which kicked off on September 6 from Rudrapur assembly constituency in Deoria district. The second gathering in Ambedkar Nagar on September 9 too had witnessed a similar fiasco.
The Khaat Sabha is believed to be coined by election strategist Prashant Kishor, the man behind PM Narendra Modi's popular 'Chai Pe Charcha' campaign for the 2014 national election.
Rahul Gandhi is presently on a 2,500 km-long Kisan Yatra from Deoria to New Delhi. During his month-long march, the Congress leader will hold several Khaat Sabhas and roadshows to establish the party's connect with the people.