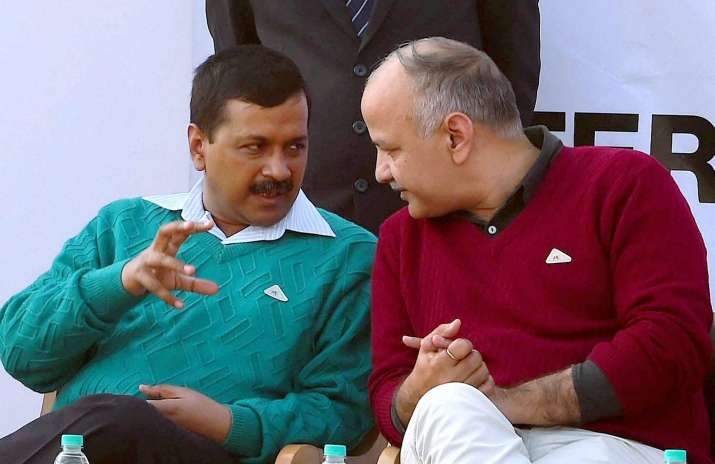 In a possible indication that Delhi Chief Minister and Aam Aadmi Party convenor Arvind Kejriwal could shift base from the national capital, key aide Delhi's deputy Chief Minister Manish Sisodia today said that people in Punjab should vote for the AAP keeping in mind that they are voting for Kejriwal as Chief Minister. 
"People casting their votes in Punjab should do so keeping in mind that they are voting for Arvind Kejriwal as their next Chief Minister," Sisodia said addressing a rally in Punjab's Mohali.  
The party, however, clarified that Kejriwal is the party's face in Punjab but that doesn't mean he will be its Chief Minister if the AAP wins.
AAP leader Atishi Marlena told a private TV channel that Sisodia's remarks on Kejriwal being the CM face in Punjab were twisted out of context.
"He (Sisodia) said vote as if Kejriwal is going to be the CM. He did not say Kejriwal will be the Chief Minister. He is the face of AAP and that is the face the people of Punjab are looking at," Marlena said.
"Kejriwal represents AAP. He represents credibility because he fulfilled several promises in Delhi. He is bringing that credibility to Punjab saying all promises made to the people of Punjab will be fulfilled," she said. 
"This is not same as saying that he will be the CM there." 
She added that Kejriwal was the Chief Minister of Delhi and was committed to the people of the national capital. 
Sisodia's remarks were pounced upon by the Congress and the Akali Dal to say that Kejriwal was planning to desert Delhi and become the Punjab Chief Minister. The AAP has announced all 117 candidates in Punjab.
AAP is making its debut in the state and is yet to announce its chief ministerial candidate. Rumours have been doing the rounds for sometime now that Kejriwal may prefer Punjab over Delhi given his frequent run-ins with the central government during the party's rule in Delhi. 
Though the party has considerable support in the north Indian state, it is grappled with the lack of leadership after Sucha Singh Chhotepur left the party. 
Kejriwal took oath as Delhi Chief Minister in 2015 after his party got an unprecedented mandate, winning 67 of 70 seats. 
Notably, Kejriwal had promised in the course of his campaign for Delhi that he will not leave leading the national capital for the next five years.
Punjab will go to polls on February 4 notification for which will be issued tomorrow. The votes will be counted on March 11.