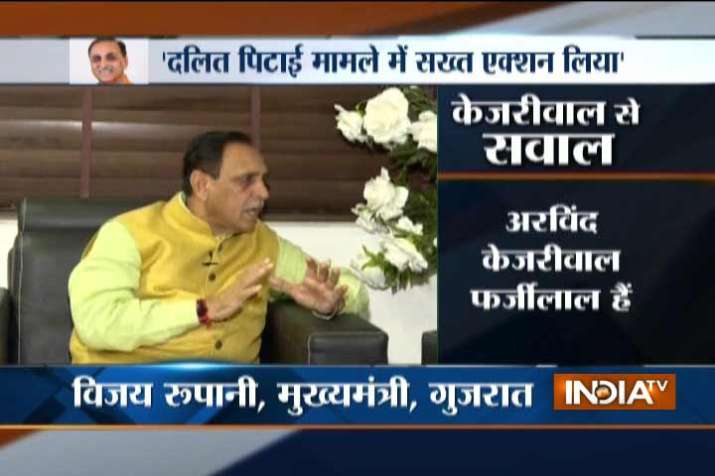 Gujarat Chief Minister Vijay Rupani today slammed Delhi CM Arvind Kejriwal alleging that he has come to Gujarat only to spread unrest in the state.
In an exclusive interview to India TV, Rupani said, "He is only propagating lies and running away from from his responsibility, his own record as a CM in Delhi is very poor."
"Can he show at least 10 things that he has done for the state which people are also endorsing?" Rupani said.
Dubbing the AAP convener as 'Farzilal', Rupani further said the AAP supremo is only interested in vote bank politics.
Underlining that BJP is fully prepared for 2017 Assembly polls, Rupani said, "There is enthusiasm among party workers and organisation, also the surgical strikes, I believe the public's mood is upbeat, so we will definitely win the upcoming election."
He said that people of Gujarat are mature and they have seen how Congress rule both at the state and Centre.
He also stressed that Congress does not have any face like PM Narendra Modi.
"We have leaders like Narendra Modi, is there any leader of his stature in Congress?" he asked.
He also said that the belief of successive Chief Ministers – Modi, Anandiben Patel and then him --  have made the state a role model in the country.
He also claimed that BJP has the support of the Patidars and that last year's agitation will have no impact on Gujarat elections.
"After Patidar movement, there was some impact in Panchayat elections. But after that, we have won two assembly seats in by-elections. We also won Gandhinagar corporation elections. We won 18 out of 28 municipalities, rest 10 were independents."