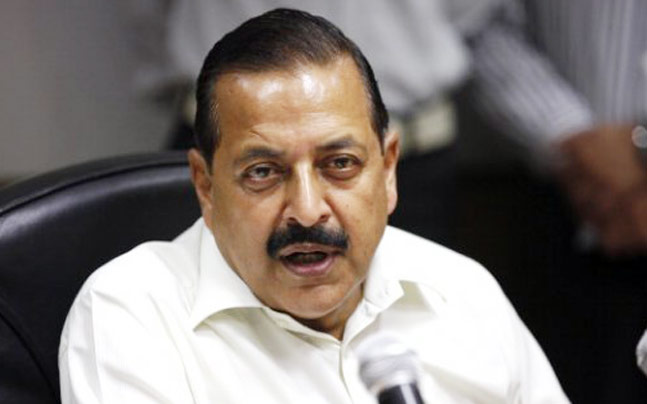 Union Minister Jitendra Singh today  said that the Narendra Modi-led central  government is sincere about resolving the Kashmir unrest and ready to hold talks with every person who believes in 'Kashmiriyat, Insaniyat and Jamhooriyat'.
Expressing hope that the ongoing crisis in the Kashmir valley will end soon, the union minister said that only a handful of people, sponsored by foreign agencies, are resorting to  violence in Jammu and Kashmir.
He pointed out that the common citizens of Jammu and Kashmir are in favour of restoring peace in the state.
 "The Centre is absolutely serious to restore normalcy in Kashmir as early as possible and we are taking steps in that direction. It is also the desire of the common citizens of Jammu and Kashmir including those living in Kashmir Valley," Jitendra  Singh, Minister of State in Prime Minister's Office, said.

 

"Certainly common man in the streets of Srinagar does not approve of violence. I always have confidence that the youth of Jammu and Kashmir is very keen to be beneficiary of miraculous scheme initiated by the Modi government. It is the handful of people, who are also sponsored by foreign agencies, who are triggering this. I am sure youths today is awaken enough to call that bluff," he added.
He said the Centre is keeping a close watch on the situation in the state.
"In the last two-three days there has been some headway.  Things are steadily coming back to normalcy. We are working very closely and in coordination with the state government to resolve the situation," the Minister said.  
To a question on initiating dialogues with separatists, he said the government was open to talk to everyone who believes in 'Kashmiriyat, Insaniyat and Jamhooriyat'.  

"When we talk of engaging it is engaging with the members of civil society and stakeholders people living in Jammu, those living in Ladakh, members of displaced Kashmiri Pandits community, Sikh community. But you cannot be engaging with somebody who is out to hit you out," he said.

 

Singh said the government is not averse to any kind of solution.
"We are open to listen to anybody who has anything to offer on that. The Centre is committed and sensitive to the issue. But may be there are certain extremist elements there who get fomented with the foreign sponsorship," said the Minister, who represent Jammu and Kashmir's Udhampur constituency in Lok Sabha.
Kashmir Valley has been witnessing unrest for the last 47 days after the killing of Hizbul Mujahideen terrorist Burhan Wani on July 8.
As many as 66 people, including two police personnel, have been killed and several thousands injured ever since the turmoil began. Among them is a youth who was killed in fresh clashes in Pulwama today.
(With PTI inputs)