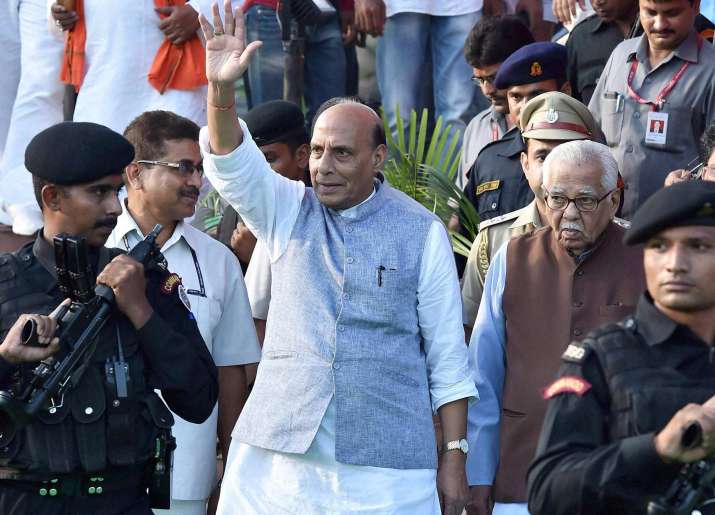 A day after the meeting between Omar Abdullah-led delegation of Jammu and Kashmir Opposition with Prime Minister Narendra Modi, the government has taken the initiative to talk with the people of the state. 
Union Home Minister Rajnath Singh will undertake a two-day visit to the Kashmir Valley tomorrow during which he will review the situation and may hold talks with cross section of people, a move which comes a day after Prime Minister Narendra Modi expressed "deep concern and pain" over the situation there. 
Home Secretary Rajiv Mehrishi will accompany the minister during the two-day visit, official sources said.
Rajnath Singh's visit to the state, the second in a month, comes after Opposition legislators of Jammu and Kashmir held several meetings in Delhi including with President Pranab Mukherjee and Prime Minister Nardenra Modi and demanded a "political solution" to the ongoing unrest.
Kashmir has been witnessing unrest since July 8 when Hizbul Mujahideen terrorist Burhan Wani was killed in an encounter with security forces. As many as 68 people, including two policemen, have been killed and several thousand were injured so far in different violence. 
The Home Minister had said the Centre wants an emotional relationship with the state and not just need-based. 
Singh had said the central government will talk to whosoever needed once peace and normalcy is restored in the state. 
"As far as Government of India is concerned, I want to make it clear that we don't just want need-based ties, but to build an emotional relationship with Kashmir," he said, reaching out to the people in the Valley while making a fervent appeal to them to help restore peace and normalcy in the state. 
Yesterday, while meeting a joint opposition delegation led by former Chief Minister Omar Abdullah, Prime Minister Narendra Modi had expressed his "deep concern and pain" over the situation there and asked all political parties to work together to find a "permanent and lasting" solution to problems in Jammu and Kashmir.
The central government has also started an apolitical initiative, involving civil society members -- mostly prominent non-Kashmiri Muslim personalities -- to help bring peace in Kashmir and a delegation is likely to visit the valley soon.
The initiative comes after two meetings of civil society activists with Home Minister Rajnath Singh here. Some of the activists who met the Home Minister said possible solutions to the present Kashmir situation were discussed at length in a "very open environment".
However, the day of the proposed visit has not been decided as yet. Neither is the composition of the delegation.
The last meeting with Rajnath Singh, held on Sunday, lasted more than two-and-a-half hours, and was attended by over a dozen people, including former Rajya Sabha MP Shahid Siddiqui, former Jammu and Kashmir interlocutor M.M. Ansari, defence analyst Qamar Agha, and Milli Gazette editor Zafarul Islam Khan.
The first meeting was held on August 18 and was attended by some 10 people, some of whom also attended Sunday's meeting. Delhi-based social activist M.J. Khan is said to have coordinated the meetings with the Home Minister.