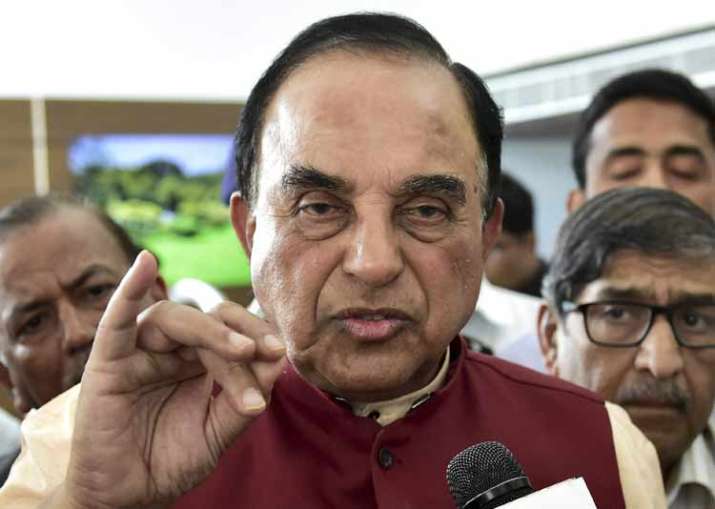 Bhartiya Janata Party (BJP) MP Subramanian Swamy on Monday alleged that Karti Chidamabaram, the son of Congress leader and former Union minister P Chidamnbaram, holds 21 undeclared accounts in foreign banks.  
Accusing the central investigating agencies of inaction, Swamy said the Central Bureau of Investigation (CBI) and Enforcement Directorate (ED) have failed to proceed against Karti to its "logical end" despite having been provided details of these bank accounts. 
At a press conference here, Swamy, a former union minister, alleged that there is no "political sanction" to act against Karti even after three summons by the Enforcement Directorate(ED).
"It is shocking that the CBI and the ED having been provided the details of 21 undeclared foreign bank accounts of Mr. Karthi Chidamabaram and of the companies that he controls, have failed to proceed against Mr. Karthi Chidamabaram to its logical end. Mr. Karthi has also effused to obey three Summons Orders of ED," he said.
Karti, however , rubbished Swamy's allegation as "outrageous" and emphasised that all his "assets are duly reflected in IT filings". 
"Karthi Chidamabaram has to be prosecuted under section 13 (1)(d)(iii) of the Prevention of Corruption Act (PCA) along with his father P Chidambaram who as Finance Minister had enabled his son in various illegal acts to amass huge amount of funds illegally abroad and which were deposited in his own named or the companies that he controls," Swamy said.  
"Instead, the BJP in Rajya Sabha has tried to push through an Amendment Bill to delete this very section from the PCA, so that Mr. Chidambaram and his son can go scot free," he added.  
Swamy also targeted the Finance Ministry, alleging it did not appear to be keen to pursue the matter. 
He has also written a letter to Prime Minister Narendra Modi in this regard.  
In his letter to PM, Swamy said the "shocking detail" was unearthed during the probe by DG (Investigations) of Income Tax in Chennai few months back yet no action has been ordered by the Finance Ministry. 
Karti was quick to deny Swamy's allegations in posts on twitter, minutes after the press conference. 
"Some outrageous claims have been made about me. My filings are up to date n completely in compliance with regulatory/statutory requirements," Karti tweeted. 
"My family's n my assets are duly reflected in our IT filings. My companies have made all declarations as required by statutory requirements," he added. 
Swamy also targeted former finance minister P Chidambaram alleging there were irregularities in the clearances given for the Aircel-Maxis deal during his tenure.