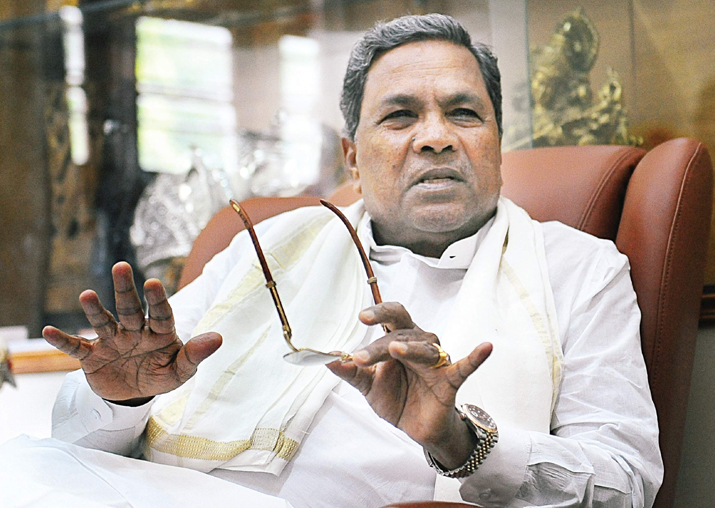 In a bid to woo the electorate ahead of Assembly elections, the Congress government in Karnataka has decided to distribute dhoti and saree among 1.25 crore families below the poverty line (BPL).
Under the 'Indira Vasthra Bhagya' scheme, the Siddaramaiah government will distribute a pair of dhoti and shirt pieces for men and a pair of saree and blouse pieces for women every year. The Textile Ministry has already sent a draft to the Finance Ministry seeking its clearance for the scheme.
One the programme is implemented, it will cost about Rs 550 crore annually to the state exchequer. 
This is not the first scheme in the name of late former PM Indira Gandhi which the Congress government has launched in the poll-bound state. The government had in recent past launched Indira Canteen scheme across the state to provide nutritious meal at low cost. One more scheme in the name of the only female PM of India -- 'Indira Sarige' is in the pipeline. Under this scheme, the government will provide subsidised commuting in Bangalore Metropolitan Transport Corporation (BMTC) buses.
Reports even say that several other departments are also working on populist programmes in the run-up to the elections. 
Meanwhile, the BJP has lambasted the Congress government, accusing it of indulging in appeasement politics. Senior party leader and former CM BS Yeddyurappa said that Siddaramaiah government 'is trying to befool the people of state by launching such populist schemes'.
"Only 2.5 months are left… After one month, the Election Commission will announce the schedule. After March, no one can do anything. Under such circumstances, why to announce such schemes? These schemes appear to be impossible," he said.
Karnataka will go to polls later this year. The tenure of the present Assembly ends on May 28. In the current 225-chair House (one nominated member), the ruling Congress has 123 MLAs whereas the BJP has 44 legislators. The JD(S) of HD Kumaraswamy has 40 MLAs.