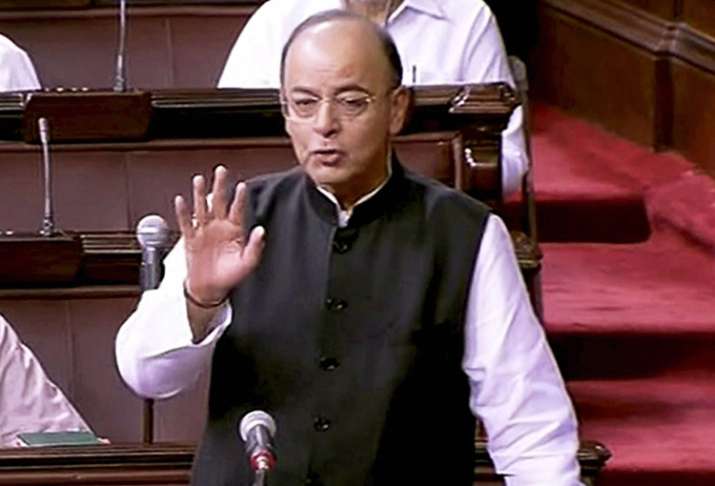 The Income Tax raids on a Karnataka Minister, who was overseeing the stay of 44 Congress MLAs from Gujarat at a resort near Bengaluru, today echoed in Parliament with Congress members disrupting the proceedings even as Finance Minister Arun Jaitley defending the action saying the searches had no connection with the Rajya Sabha polls in Gujarat. The Income Tax Department said Rs 9 crore cash was recovered from the search of various properties linked to Karnataka Energy minister D K Shivakumar. The raids were conducted in connection with a tax evasion case, the department said. 
The Congress members vociferously raised the issue in both the Rajya Sabha and the Lok Sabha, and forced the Upper House to adjourn proceedings at 2.45 pm. Jaitley, who spoke on the issue in both the Houses, said that no search operation was conducted at the resort in Karnataka where Gujarat Congress MLAs are staying.
Here are 10 takeaways from Jaitley's speech in Parliament:
1- Searches should not be linked to the Rajya Sabha election in Gujarat. 
2- The properties of a "particular" minister of the Karnataka government was searched.
3- I-T searches took place at 39 other places.
4- No search has taken place at the resort where the Congress MLAs from Gujarat are staying.
5- He (D K Shivakumar) had gone and "parked" himself in that resort. 
6- As per the procedure, the person against whom the raid was conducted has to be confronted to take his statement. 
7- The authorities had gone to (the resort) get him to his residence so that he could be adequately questioned by the authorities," Jaitley said.
8- The resort was not an area where the Karnataka minister can get "immunity from the law". 
9- Don't link it (the raids) with (the) Gujarat MLAs, link it with economic offence. 
10- The officials only visited the resort where the minister was tearing off the papers. We have also collected these papers and done a 'panchanama'.