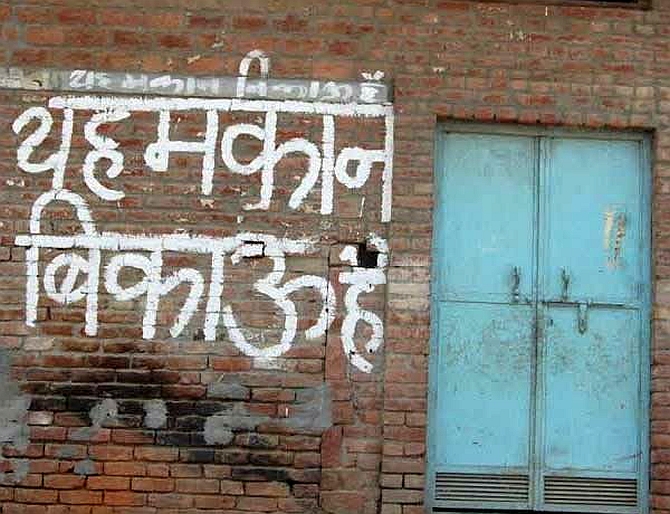 After the two phases of Assembly elections in Uttar Pradesh, where the Western part of the state voted for 140 seats, the Bhartiya Janata Party (BJP) seems to have changed its agenda.  
During the campaigns for two phases in the region which has sensitive areas like Muzaffarnagar, Dadri and Kairana, BJP leaders vociferously raised the issue of "love jihad" and "exodus."  Now the polling is over, the tone seems to have changed.  
Home Minister Rajnath Singh, one of the tallest leaders of the BJP from the state, today said he does not recognise alleged migration in Kairana as a Hindu-Muslim issue and showed ignorance for the term "love jihad".  
"I do not see this (migration) as a Hindu-Muslim issue. Some so-called secular parties spread hatred in the name of Hindu and Muslim to gain votes. But we believe that no party should do politics in the name of caste and religion but should instead do politics over humanity and justice," Rajnath said speaking to India TV.  
Speaking on the Kairana issue, the former Uttar Pradesh Chief Minister said, "Whether it's Hindu or Muslim, it is the responsibility of the government to stop migration if it involves Indian citizens. Government should take this as a challenge."   
When asked to react on BJP MP Yogi Adityanath's remarks comparing situation in Kairana with that of Kashmir in 1990s, Rajnath said he did not agree with it.  
"Every place has different conditions. Conditions at one place can not be compared with that of another place. Whatever situation is created, they have different reasons at different places," he said.  
Asked to comment on BJP's promise of "anti-Romeo squads" and the issue of "love jihad," Rajnath said he does not even know what the term means. 
"I have never understood the meaning of things like love jihad. I do not like to discuss these issues," the minister said adding that India has always promoted the philosophy of "Vasudhaiva Kutumbakam (the world is one family)."  
I do not know what love jihad is, he said. 
Both love jihad and Kairana issue featured extensively in BJP's polls campaign during first two phases of UP elections.  
Gorakhpur MP Yogi Adityanath, speaking at India TV's Chunav Manch Conclave in Lucknow earlier this month, outlined his agenda for the polls, saying the Hindu exodus from Kairana, love jihad and women's safety are few issues that will dominate the state elections. 
He has often compared Kirana with 1990s Kashmir when lakhs of Kashmiri Pandits were forced out of their homes by militants.