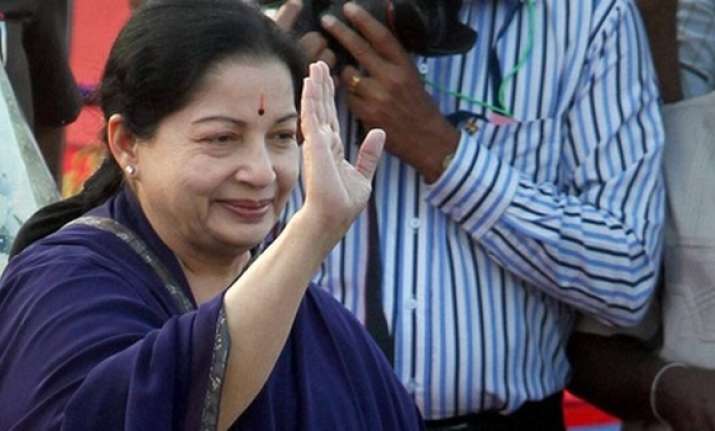 Tamil Nadu's departed Chief Minister Jayalalithaa's health started declining after she was jailed in a Disproportionate Assets (DA) case in September 2014.
Jayalalithaa had spent 21 days in jail after she was convicted in the DA case by a special court on September 27, 2014. The special court had also slapped  Rs 100 crore fine on her. 
She was released on October 18, 2014. The Karnataka High Court later acquitted her in this case on May 11, 2015. 
According to a report in The Indian Express, after her release from jail, Jayalalithaa  cut short her public engagements, kept away from key responsibilities and reduced her working hours.  
"She kept herself away from key responsibilities after being sworn in as Chief Minister. Trusted aides, including former Chief Secretary Sheela Balakrishnan, ran the show," a retired IAS officer told The Indian Express.
In fact, Jayalalithaa was taunted by her political opponents for her reclusive lifestyle and reduced working hours. 
The report quotes a police officer as saying that after Jayalalithaa's release from the jail, the gap between her and the security personnel was reduced from two feet to one feet owing to her poor health.
"Before her conviction in the assets case, there used to be a two-feet gap between the Chief Minister and her security personnel. She appeared weak after her imprisonment. That gap was reduced to one feet so that we could lend a helping hand in case of an emergency. In the last two years, she found it difficult to stand for a long period of time. She used elevators to reach the stage during public rallies, she chose to sit and deliver speeches," the officer told The Indian Express.
A former state minister revealed how Jayalalithaa was unwilling to share her medical prescriptions with senior leaders and bureaucrats. 
"It was her imprisonment (in 2014) that derailed her health. She refused to meet doctors in prison, refused to share her medical prescriptions until some senior leaders and bureaucrats managed to persuade her. We shipped an especially-made chair to the prison, and leaders slept outside the prison to convince her that she was not alone. But when she emerged from prison, Amma was different. Neither the bail nor the acquittal made her happy," a former state minister was quoted as saying by The Indian Express.
Jayalalithaa appeared in public for the last time on September 20, two days before she was admitted to the Apollo Hospitals.
Union Ministers M Venkaiah Naidu and Pon Radhakrishnan were in Chennai on that day to participate in a ceremony for the launch of a new line at the Chennai airport metro station and Jayalalithaa was also supposed to attend the function.
She, however, joined them via video conference from her office despite being in Chennai.
"She was already unwell. She was brought in a wheelchair to her chamber that day and a video was shot there," an official in Jayalalithaa's  security team was quoted as saying by The Indian Express.