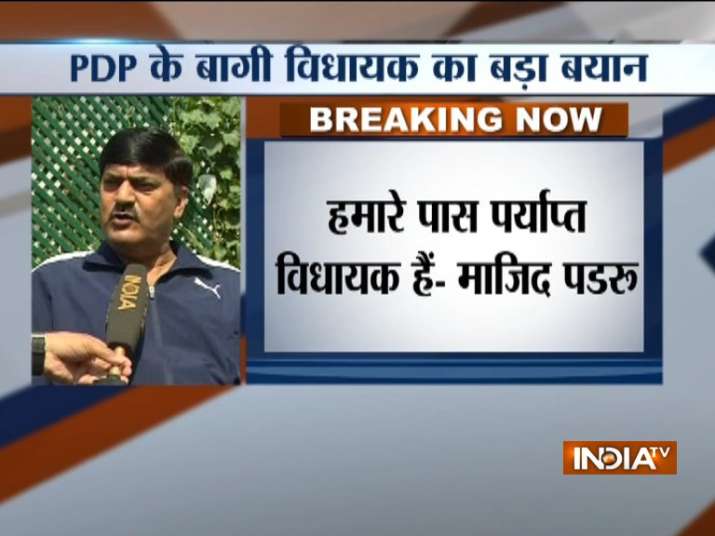 A day after Peoples Democratic Party (PDP) chief Mehbooba Mufti warned the Bharatiya Janata Party (BJP) against any attempts to break her party, a rebel PDP leader has indicated that a block of disgruntled party leaders may join hands with BJP to form government in Jammu and Kashmir. 
PDP leader Majeed Padroo claimed that they have the number to form the government with the BJP. He added that the CM will be from the state.
"We have no issues in forming the government with BJP's support. We have the numbers. We don't want Governor's Rule in the region but a new government for the remaining term of the Assembly. It is not about Hindu CM...if at all a new government takes shape, the CM will be from Kashmir," Padroo said.
The PDP is the single largest party in the 87-member J&K Assembly with 28 seats. The BJP has 25 seats, National Conference 15, Congress 12, Peoples Conference (PC) 2, and rest are independents. The BJP needs support of 44 MLAs to form the government. 
Padroo's remark comes a day after PDP chief and former CM Mehbooba Mufti warned the BJP against trying to trigger a split in her party. She said any attempt by "New Delhi"  to "engineer" a split in her party will have "extremely dangerous" consequences. Mehbooba said any such attempt will result in birth of more Syed Salahuddins and Yasin Maliks.
Also Read: 'More Salahuddins will be born': Former Jammu and Kashmir CM Mehbooba Mufti warns Centre against breaking PDP 
"My party is strong, there are differences which can be resolved. However, if there are any attempts to engineer a split in the PDP like it was done in 1987 to commit robbery on people's vote and to crush the MUF (Muslim United Front), the results will be extremely dangerous," she told reporters in Srinagar.
Soon after Mehbooba's statement, five rebel PDP legislators came out in open to slam her.
"One she (Mehbooba) has tried to give an impression that the institution is up for sale that anyone can buy them. Second, she has tried to label us that we are dancing to someone's tunes. This is like putting us before the lynch mob, this can put our families and workers at risk," MLA Baramulla Javaid Hassan Beg told reporters.
Beg was accompanied by MLA Pattan Imran Ansari, MLA Noorabad Abdul Majeed Padroo and two MLCs at the press conference. 
Ansari's uncle - MLA Zadibal Abid Ansari - and MLA Tangmarg Abbas Wani are the other two PDP legislators who have openly rebelled against the leadership of Mehbooba Mufti. 
Watch: BJP to form govt in Jammu and Kashmir with rebel PDP leaders?
(With inputs from agencies)