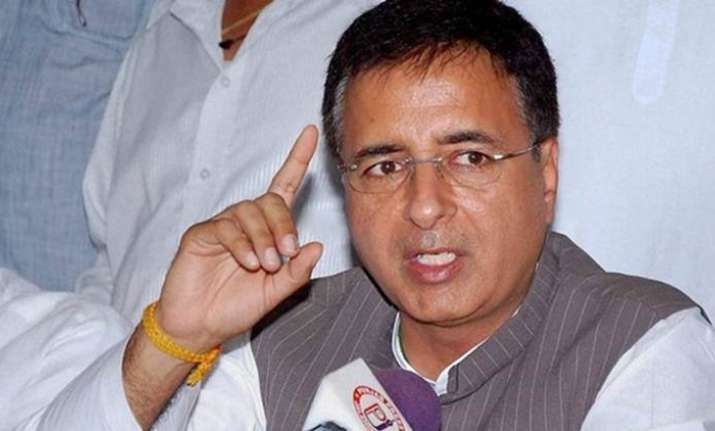 A day after senior Congress leader Jairam Ramesh said that his party is faced with an 'existential crisis', party spokesperson Randeep Singh Surjewala on Tuesday said that he doesn't agree with the remarks, and that Ramesh should have discussed the matter within the party forum before speaking out in public. 
"This is true that the Congress is going through challenging phase but we don't agree this that there is existential crisis. Congress principle, policy is strong under the leadership of Congress president Sonia Gandhi and vice president Rahul Gandhi. Whatever Jairam Ramesh has said that can be his personal views. The Congress does not agree with this," Surjewala told ANI. 
He further said that the Congress leaders should discuss every matter within the party forum and take permission before speaking publically.
However, Congress leader Mani Shankar Aiyar took a more soothing stand saying that Ramesh's statement saying it should not be ignored as he is a true Congressman.
"Jairam Ramesh has said so many things, I would suggest you read his whole statement. He is a true Congressman, what he has said, shows that he is concerned for the party. Our party is a Constitutional party, if we don't pay attention to different opinions and find out the solution then we cannot go forward," Aiyar said.
He also said that time has come for Rahul Gandhi to be named as Congress president, while Sonia Gandhi can become mentor. 
Ramesh today evaded media's questions on his remarks as he reached the Parliament. The former minister had said on Monday that the Congress is facing an "existential crisis" and called for "a collective effort" by party leaders to "overcome" the challenges it faced from Prime Minister Narendra Modi and BJP chief Amit Shah.
Ramesh also said that the business as usual approach will not work against Modi and Shah, and advocated for change to make Congress relevant. "Yes, the Congress party is facing a very serious crisis," Ramesh told PTI in an interview.
He said the Congress had faced an "electoral crisis" from 1996 to 2004, when it was out of power. The party had also faced a similar crisis in 1977, when it lost the elections held soon after the Emergency.
"But today, I would say that the Congress is facing an existential crisis. It is not an electoral crisis. The party really is in deep crisis," he said, when asked whether the threat of "poaching" of MLAs posed by the BJP in Gujarat had forced the party to transport its MLAs to Karnataka to ensure party leader Ahmed Patel's victory in the Rajya Sabha polls.
He, however, justified the Gujarat Congress's decision to send 44 MLAs to a resort in party-ruled Karnataka on July 29 to fend off the alleged "poaching" attempts by the BJP, saying the saffron party had also "transported" MLAs in the past. He said it was wrong for the Congress party to think that anti-incumbency will work automatically against the Modi-led government in the states being ruled by the BJP in the elections.
"We have to understand we are up against Mr Modi, Mr Shah. And they think differently, they act differently, and if we are not flexible in our approach, we will become irrelevant, frankly," the Congress leader said.
He said the Congress party must also recognise that India has changed. "Old slogans don't work, old formulas don't work, old mantras don't work. India has changed, the Congress party has to change," he said.
The former Union minister hoped that party vice-president Rahul Gandhi would end the uncertainty over his taking over as the Congress president to make the party ready for crucial electoral battles in key states in 2018 and the Lok Sabha polls scheduled a year later.
"I think in all probability, Rahul Gandhi will take charge (as Congress president) before the end of 2017," he said.
The senior leader added that he had been proved wrong in the past about his prediction about Rahul's assuming charge of the top party job. "I thought it will happen in 2015, it didn't happen. I thought it will happen in 2016, it didn't happen. So I am the wrong person to ask this question. I feel that it may happen before the end of 2017," Ramesh said.