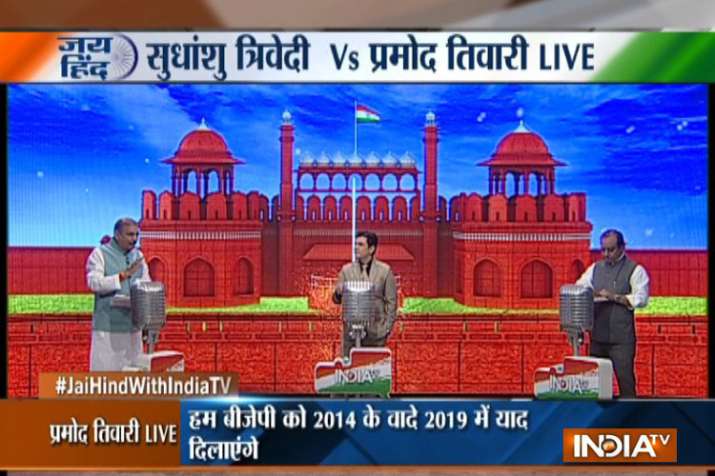 The Bharatiya Janata Party (BJP) believes that the 2019 Lok Sabha elections will be fought on the sole agenda of development, however, religion is an integral part of nation-building. The Congress-led Opposition has often accused the BJP of playing the polarisation card ahead of elections, while on the other hand the saffron party has been claiming that nation-building through was it prime objective.
Speaking during IndiaTV's 'Jai Hind' conclave, BJP spokesperson Sudhanshu Trivedi clarified that his party wants to fight on the agenda of development and nothing else and that it was the Congress and other Opposition parties which was trying divide the nation on communal lines. 
"We will win elections on the basis of our work, but religion will remain an integral part of nation-building. Development and the enormous amount of work done by PM Modi will be our agenda," Sudhanshu Trivedi said while debating over whether development or religion will be the agenda in 2019 elections. 
Trivedi said it was the Congress which is playing the communal card which was evident from Rahul Gandhi's 'temple-run' during election season. 
"Why does Rahul Gandhi only visit temples during election season. Why he didn't do so when he was taking charge of Congress president's post?" Trivedi asked.
Responding to Trivedi's charge, senior Congress leader Pramod Tiwari accused PM Modi and the BJP of duping the people of the country and making false promises.
"What happened to the promise of Rs 15 lakh in each account? We will keep demanding answers over this false promise," Pramod Tiwari said.
Rafale jet deal
Raising the issue of Rafale jet deal, the Congress leader claimed that the Modi government was helping big corporate houses like Reliance otherwise why would it hand over such a sensitive project that company. 
"Companies like Reliance were benefited in Rafale jet deal. Why the government paid over Rs 1000 crore per fighter jet which previously cost Rs 500?  Why HAL was not given the project?" Tiwari asked.
Hitting back at Tiwari, BJP's Sudhanshu Trivedi stressed that Rafale deal was inked between the governments of two nations and not between two companies as has been the case all these years.
"It was France government's decision to pick Reliance to develop Rafale jets in India. The Indian government had role in it. Let me clarify a few things first. The Rafale deal is an agreement between governments of India and France and not between two companies as has been the case under previous governments," Sudhanshu Trivedi said while raising questions why Indian firms like HAL were unable to develop world-class fighter jets even after so many years. 
"We have launched so many satellites. We reached the moon with Mangalyaan but haven't been able to develop a potent fighter jet. The LCA Tejas project took 30 years. It is evident that previous governments didn't want to do so for obvious reasons," he said.
Mob lynching issue
Questioning PM Modi's prolonged silence over incidents of mob lynchings in the country, Congress leader Pramod Tiwari pointed out killing on the name of cow vigilantism increased substantially since the BJP came to power. He said PM Modi failed to do anything to prevent such incidents apart from issuing remarks after long intervals.
"PM Modi speaks on lynching issue but refrains from action on Jayant Sinha who garlanded people accused of  lynching," Tiwari said.
"PM Modi strongly condemned the incidents on lynching. Today garlanding those accused of lynching has become an issue, but in 1984 then PM just said 'when a bigger tree falls, the earth shakes'. He even made those accused of 1984 riots ministers," BJP's Sudhanshu Trivedi shot back.
WATCH: IndiaTV Jai Hind Conclave - Session 2 | BJP's Sudhashu Trivedi Vs Congress' Pramod Tiwari