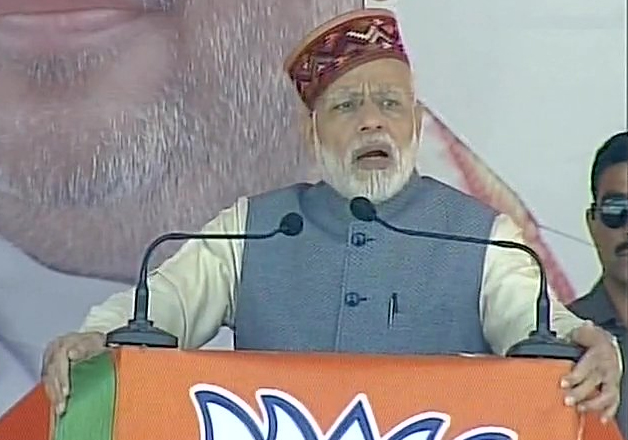 Prime Minister Narendra Modi today lauded the Indian Army saying 'the world is now talking about the bravery of the Indian forces'.
"The world is now talking about our Army. We used to hear about similar feats of the Israeli Army. But now everyone knows Indian Army is no less," the Prime Minister said in a veiled reference to the surgical strikes conducted across the LoC while addressing a Parivartan Rally in Himachal Pradesh's Mandi district.
This was his first visit to poll-bound Himachal Pradesh after assuming office more than two years ago. The hilly state will go to polls early next year.
He also said that the BJP government at the Centre fulfilled the demand of One Rank One Pension (OROP). 
Lashing out at erstwhile governments for delaying the process, he said, "The One Rank One Pension was hanging for 40 years, and it is our government which completed that work. Not only soldiers but their families bless me."
"I had spoken here about OROP when I came here to campaign. Today in this veerbhumi, I can say that this right of yours have been given," Modi said.
Meanwhile, CM Virbhadra Singh said that the PM's rally will have no impact on the BJP's poll prospects in the state. 
He also expressed confidence that the Congress will return to power for second consecutive time.
Earlier in the day, the PM had dedicated to the nation three hydro-electric projects (HEPs) with a generating capacity of 1,732 MW in Himachal Pradesh. All the three power projects -- Koldam HEP (4x200 MW) of NTPC, Parbati HEP Stage-III (4x130 MW) of NHPC and Rampur HEP (6x68.67 MW) of SJVN -- are equipped with generating equipment supplied and commissioned by Bharat Heavy Electricals Limited (BHEL).