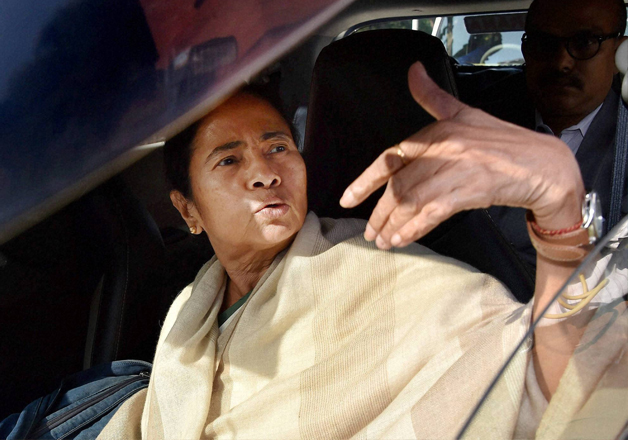 Of all the opposition parties against Prime Minister Narendra Modi's demonetisation drive, West Bengal Chief Minister has emerged as the strongest critic of the move.
With the cash crunch forcing people to stand in long queues at ATMs, banks and to cut their expenses, Mamata may be expecting the public mood to swing in her favour.
However, despite the hardship, people are hailing PM's surprise move. They expect it to blow a big hole in the pockets of corrupt politicians, bureaucrats, real estate developers and crooks. They are ready to bear this short pain for long term gain to the country's economy.
With chinks in UP's Yadav family quite visible, RJD-JD(U) alliance under threat, and Congress witnessing its worst phase ever, Mamata senses this as an opportunity to project herself in national politics.
Mamata also has the backing of a wide range of economists including Nobel laureate Amartya Sen, Manmohan Singh, Kaushik Basu and Arun Shourie. Even a working paper prepared by the Tax Research Group of the National Institute of Public Finance and Policy (NIPFP) under the Union Finance ministry shared some concerns. 
Mamata joined Delhi Chief Minister Kejriwal in Delhi, and then went to Lukcnow and where her concern was echoed by UP Chief Minister Akhilesh Yadav also. This, after her major fallout earlier with SP chief Mulayam Singh Yadav. In 2012, the SP supremo backtracked on his promise to support APJ Abdul Kalam and backed Pranab Mukherjee in the presidential elections.
She even indirectly called Bihar Chief Minister Nitish a Gaddar' for not joining her agitation and endorsing Modi's effort. Notably, Nitish and Mamata had developed a good rapport, especially after Nitish was present at Mamata Banerjee's swearing-in ceremony in Kolkata. 
Mamata's ambitions, as political pundits see it, have also seen her offer a hand of support to her biggest rivals – the Left, and there are good reasons.
Even as the vote percentage of BJP soared in recent bypolls after demonetisation, the saffron party is far from challenging her domination in West Bengal. But she may be foreseeing that BJP could soon become Bengal's primary opposition party.
In the entire hullabaloo, Congress under the leadership of Rahul Gandhi has become a party which has lately failed to read nation's mind.
While the Left and Congress suffered another crushing defeat in a row, the BJP, quite surprisingly, increased its vote share in the two Lok Sabha segments and one Assembly seat.
In Cooch Behar, the BJP's vote share shot up to 28.5%. It was 16.48% in the 2014 Lok Sabha polls and 6.42% in the Assembly polls in May this year. In Tamluk, too, the BJP's vote share stood at 15.25%, up from 6.40% in 2014 and 4.82% in the Assembly polls.
In Monteswar, the BJP's vote share remained somewhat constant at 8.5%. It was 9.39% in 2014 and 8.09% in the May polls.
Social media is flooded with posts saying it's a desperate bid by her to protect her ilk that has been hit hard by the cash clean-up.
With the Centre refusing to budge from its decision, Mamata's demand of a rollback may not see light of day but only time will tell whether her protest would find support in common man and help her ambitions.