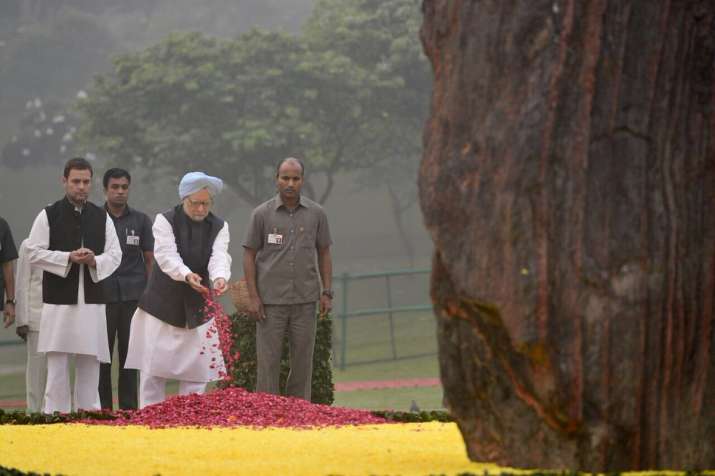 Prime Minister Narendra Modi, his predecessor Manmohan Singh, former President Pranab Mukherjee and Congress Vice President Rahul Gandhi on Tuesday paid tributes to former Prime Minister Indira Gandhi on her 33rd death anniversary.
"Tributes to former PM Mrs Indira Gandhi on her death anniversary," Modi tweeted.
Congress leaders and Mukherjee paid floral tributes to the late Prime Minister at Shakti Sthal here.
"We pay tribute to a dynamic leader; India's first and only female PM and 1999's 'Woman of the Millennium', Indira Gandhi," the Congress party said in a series of tweets.
The party posted a picture of Mrs. Gandhi and her message "Martyrdom does not end something, it is only a beginning".
"Remembering Indiraji and her immense passion for India and its people. She was a leader whose conviction remains unparalleled," the party said.
It quoted Indira Gandhi's own words posting with the tweet that read, "If I die a violent death, as some fear and a few are plotting. I know that the violence will be in the thought and the action of the assassins, not in my dying."
Rahul Gandhi also tweeted a picture of Indira with a quote "Forgiveness is a virtue of the brave" which he attributed to his grandmother. 
She was the daughter of the first Prime Minister late Pandit Jawaharlal Nehru. Born on November 19, 1917, Indira Gandhi was assassinated on October 31, 1984, by her bodyguards.
The assassination came a few months after she ordered the storming of the Harmandir Sahib, most commonly known as Golden Temple, in Amritsar in the "Operation Blue Star" to counter the Punjab insurgency.
She held office from January 1966 to March 1977, and again from January 14, 1980 till her death.
(With agencies)