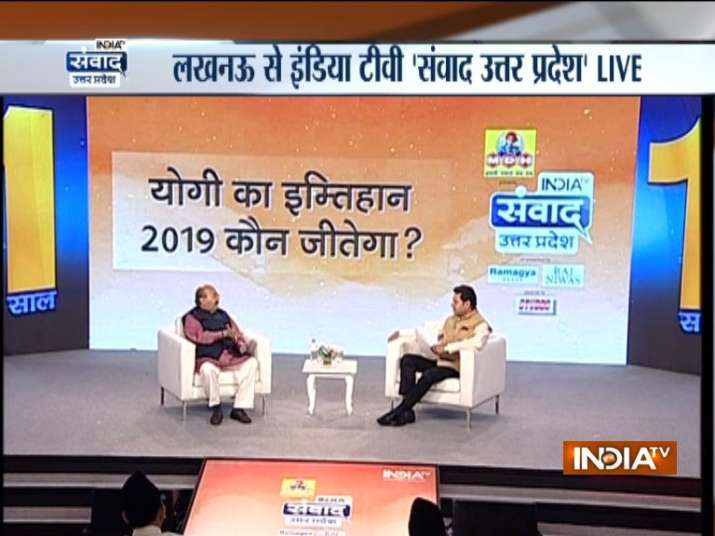 Veteran politician Amar Singh on Tuesday heaped praises on Prime Minister Narendra Modi and Uttar Pradesh Chief Minister Yogi Adityanath. Speaking at the India TV Samvaad on one year of Yogi Govt, the Rajya Sabha MP said that PM Modi and CM Adityanath have together created a government which cannot be bought by corrupt businessmen.
"From Mayawati to Akhilesh Yadav and even Mulayam Singh - everyone was in the pocket of Ponty Chadha, but PM Modi and Yogi Adityanath have created a government which cannot be bought by corrupt businessmen," Singh said on India TV Samvaad. (Follow full coverage on India TV Samvaad)
Recalling his encounter with PM Modi's family, the senior leader said that he was astounded to what a simple life they lead despite the VVIP connection. "I once visited PM Modi's brother in a hospital and I was surprised to see him admitted in a dormitory. If it had been anyone else, they would have emptied the entire hospital," he said.
Singh also praised PM Modi's recent statement in New Delhi where he said that war against terrorism was not a war against Islam. "It is true that every Muslim is not a terrorist, but most of the terrorists being caught are Muslims. 
Follow: India TV Samvaad on Yogi Govt's one year LIVE
"There are other such myths in the society that the people are believing and we need to get rid of these," Singh added.
Amar Singh said that he was pleasantly surprised to find out that RSS also has a Mulsim wing. 
Blaming Samajwadi Party for Naresh Agrawal's inappropriate statement on Jaya Bachchan, Amar Singh said that it was not surprising for him as Agrawal comes from a party with a 'tradition of making derogatory statements against women'.
However, the veteran leader also questioned Jaya Bachchan's silence over statements made against her or on Jaya Prada by SP leaders in the past. "I would like to ask Jaya Bachchan also why was she quiet when Jaya Prada, who has acted and danced with her husband in numerous movies, was being attacked by hooligans or her honours was being stripped by the SP leaders," he said.
Furthermore, Amar Singh blamed the Samajwadi Party for instilling unrest in western UP. "The relations between Hindus and Muslims in western UP were always cordial, until SP leader Azam Khan meddled in an eve-teasing case, got the accused Muslim boy off," Singh claimed, adding that despite all his flaws SP considers Azam Khan a greater leader and only representative of Muslims in the state.
Watch video | India TV Samvaad: Amar Singh heaps praises on PM Modi, CM Adityanath