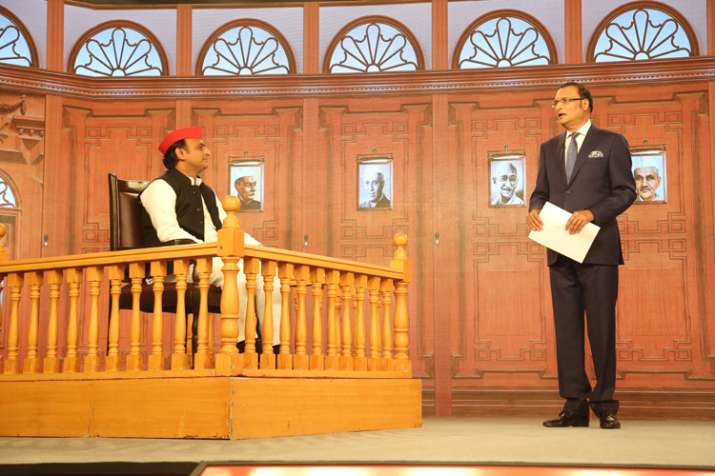 Samajwadi Party chief Akhilesh Yadav today refused to rule out an alliance with rival Bahujan Samaj Party in the 2019 Lok Sabha polls. "Our Netaji (Mulayam Singh Yadav) had forged an alliance with BSP in the past, so what is wrong if we forge an alliance again?", he said. 
Replying to questions from India TV editor-in-chief Rajat Sharma at the daylong conclave India TV 'Samvaad' on completion of one year of Yogi Adityanath's rule, Akhilesh Yadav said: "We had talks with them (BSP) for securing their support in the two byelections only, and why are our rivals upset? When they (BJP) speak of social engineering and inducting leaders from other parties, that is 'holy alliance' for them, and what we are doing now in the byelections is unholy alliance?" (Follow full coverage on India TV Samvaad)
When Rajat Sharma pointed out that Chief Minister Yogi Adityanath had slammed the SP-BSP understanding as the coming together of a "snake and mongoose during the storm (saanp-chachhoondar)", Akhilesh Yadav replied: "And what did they (BJP) do to defeat us in the assembly polls? They inducted leaders of different communities from other parties. Today BJP is the most casteist party in India, and there is not a single party which BJP has not divided."
When Rajat Sharma specifically asked whether the SP and BSP would forge an alliance for 2019 Lok Sabha polls, Akhilesh Yadav sidestepped this by saying: "Ekdum theek baat hai. (Alright). They are doing politics, we are also doing politics. Why are people forgetting that there was BJP-BSP alliance in the past, and also SP-BSP alliance?" 
Counting for Gorakhpur and Phulpur Lok Sabha byelections will take place tomorrow. The BSP has not fielded any candidate in both byelections. 
Akhilesh Yadav said: "The press statement issued by Mayawati ji for the byelections stands for now, verbatim."
In her statement, Mayawati had said that her party would support a candidate who can defeat the BJP in Gorakhpur and Phulpur byelections. 
Replying to other questions, Akhilesh Yadav alleged that "nothing was moving forward on any project. Hundreds of labourers are lying idle. This state government (of Yogi Adityanath) is only taking credit for all the projects that we had started, like the Expressway, Lucknow Metro and several others. He (Yogi) should stop speaking about Aurangzeb and concentrate more on development."
He pointed out at Reliance Industries chairman Mukesh Ambani's statement at the recently held Global Business Summit in Lucknow. 
"Mukesh Ambani clearly said that his group had already invested Rs 20,000 crore in UP, and will invest Rs 10,000 crore more. When did this investment of Rs 20,000 crore come? It was during our rule. We had launched free wi-fi at Hazratganj in Lucknow".
"The problem is: this government has a small heart. It does not want to admit that it was our government which initiated Metros in Noida and Lucknow, which implemented the Agra-Lucknow expressway, which initiated the solar project that was inaugurated yesterday by the Prime Minister in Varanasi. This government is only inaugurating one project after another, all initiated during our rule. It is only trying to take credit for our work."
I also went to Noida, will go in future too. I had said, if I'll form the govt then will go to Noida, we didn't form the govt so I didn't go to Noida" said @yadavakhilesh in #IndiaTVSamvaad pic.twitter.com/I8W1KSNDQN

— India TV (@indiatvnews) March 13, 2018
The SP chief alleged that most of the development work in UP has come to a standstill. 
"This government has no new projects. I welcome the government holding Global Business Summit. But we have come to know, that a Rs 13-crore company has signed several thousand crores worth MoU at the summit. Once facts come out, this govt will have to face ignominy. This govt should have at least heard the points put forward by the industrialists."
Describing the entry of Naresh Agarwal from SP to BJP as "good riddance" (achha hua), Akhilesh Yadav said, in the past he had reprimanded Agarwal for making objectionable comments about the army and Lord Ram.
"Earlier when #NareshAgarwal gave controversial statements, I reasoned with him. Now he is in BJP, they should issue reply to his statements." said @yadavakhilesh in #IndiaTVSamvaad pic.twitter.com/T7wEGI8QrX

— India TV (@indiatvnews) March 13, 2018
 "Whatever he has said now (about Jaya Bachchan), it is for the BJP to ponder. What I gather is that the BJP is waiting for the Rajya Sabha polls to end, and then they will take action."
On CM Yogi Adityanath claiming that after the BJP has demolished Red Flag in Tripura, it will now demolish Lal Topi (headgear of SP activists), Akhilesh Yadav said: "This red cap used to be worn by Samajwadis in the past. Any why is he (Yogi) against red? Is it because, now he has become CM, his car doesn't stop at red light? This red colour is symbolic. It's a signal for him to go ahead carefully and doesn't stray from his path. "
"Instead of speaking about Aurangzeb, the CM (Yogi) should speak about development. He should tell us when he is going to build the expressway from Lucknow to eastern UP. Had our party won the elections, the expressway would have reached upto Sultanpur or Azamgarh, but looking at their budget today it cannot even reach Barabanki. "
When Rajat Sharma pointed out that nearly 10 lakh students declined to sit for the exam this year because of a strict vigil at exam centres in UP, Akhilesh Yadav alleged that the BJP government was deliberately trying to ensure that the students do not pass "because this government is not in a position to give jobs". 
Yadav alleged that at the house of a local BJP leader, away from the exam centre, nearly 62 students were caught copying. "If you want to stop copying, then there should be open book exam on the lines of European countries for students". 
Watch video |  Aap Ki Adalat: Whatever development is happening in UP was initiated by SP, says Akhilesh