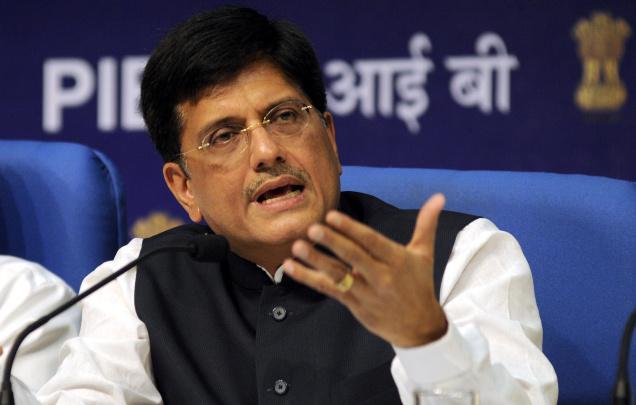 Mumbai: Rising production of the dry fuel may lead India to completely stop thermal coal imports in the coming 2-3 years, resulting in annual savings of Rs 40,000 crore, Minister of State for Power, Coal, New and Renewable Energy Piyush Goyal said on Friday.
Coal is one the major sources of electricity for India which is also one of the biggest consumers of coal in the world along with China. 
Coking coal, however, would need to be imported, the coal and power minister said at the maiden Maritime India Summit here, adding that his ministry was ready to tie up with Indian shipping companies for this purpose.
Record coal production by the world's largest coal miner Coal India Limited (CIL) helped India reduce its import bill of the dry fuel by more than Rs 28,000 crore in the last fiscal.
"I have no hesitation in saying that Indian companies used to import a lot of thermal coal. We want to completely stop the import of thermal coal in the next two to three years. We have already reduced imports by Rs 28,000 crore. We will save Rs 40,000 crore," Goyal said.
He said his ministry was ready to enter into pacts with Indian shipping companies for import and transportation of coal.
"This is the time for Indians to buy ships, to invest in infrastructure. This is the time for Indian shipping companies to own ships. I am happy to do long-term contracts with Indian shipping companies to transport our coal. Why don't we have a long-term contract," he said.
Goyal also proposed setting up a small private equity fund that would be handled by an international fund investor expert.
"We can have some base capital of about $250 million and this fund can provide equity to various organisations undertaking logistics through coastal shipping and inland waterways," he said.
"Lets look at innovative solutions," he added.
Goyal said that if public sector units, the ministry of power and coal, and others contributed to this, it will give confidence to the private sector to participate in this initiative.
"We could also raise about Rs 4,000 crore from international investors," he said.
Goyal said that the government is committed to ramping up CIL's production to 1 billion tonnes by 2019.
In 2015-16, the 'Maharatna' achieved a record production of 536 million tonnes (MT), which was 42 MT more than the previous fiscal. Its production grew by 8.5% year-on-year.
However, CIL, which accounts for over 80% of the domestic coal production, was eyeing 550 MT in 2015-16.
(With PTI inputs)