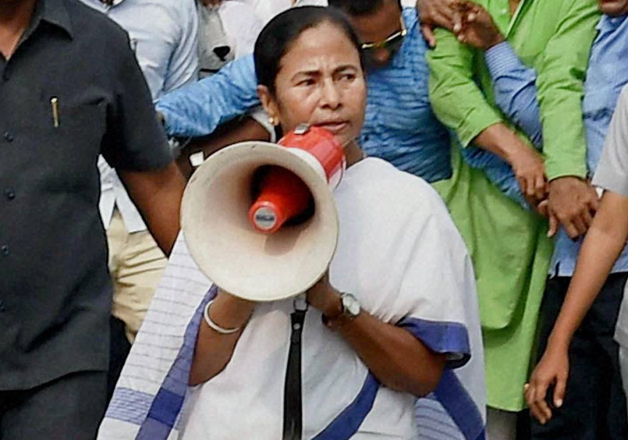 Stepping up her attack against Prime Minister Narendra Modi on demonetisation, West Bengal Chief Minister Mamata Banerjee on Monday said that 'she won't rest till she sees the ouster of the Prime Minister from country's politics'.
"Today, I am taking a pledge, whether I die or live I will remove PM Modi from Indian politics," she said while addressing a TMC rally here to protest the central government's decision to demonetise high-value currency notes.
"There is no place for dictators like you, Modi babu. This is a democratic country," she added.
Raising slogans like 'tanashahi nehi chalegi', the TMC supremo demanded that the Prime Minister must take back his 'disastrous decision' of banning the old Rs 500 and Rs 1,000 notes.
"Bazaar, cinema… everything got affected, but he (the Prime Minister) didn't care about common people," she said. 
"Most of the people in rural areas do not have bank accounts. How will they cope up with this situation?" she questioned. 
"Whole of India is in a bad shape, Modi is sleeping and making big speeches. He is giving us lectures on 'Mann ki Baat' (radio programme)," she further said.
Banerjee announced she would go to Delhi again, and take out a protest march on the issue. 
"If need be, I will demonstrate outside Modi's house. This is a Tughlaqi fiat. Even Hitler had not taken such a step," she said.
She alleged that every person protesting against the move was being threatened by central agencies, and even newspaper owners were not spared.
Ridiculing Modi for talking about a cashless economy, Banerjee said: "What will happen to the poor? A leader must speak the language of the people. Now a baseless and faceless person has become the country's leader."
"Suddenly, Modi babu thought he has become the God of Gods. It seems you have to seek Modi's permission even to walk on the streets or take food. How many people will Modi send to jail? It is not that easy. India is a land of 128 crore people," she added.
The Chief Minister also asked Modi to explain how BJP 'came to know' about the demonetisation in advance and purchased land in Bihar.
Banerjee appealed to intellectuals and other sections to hit the streets in protest.