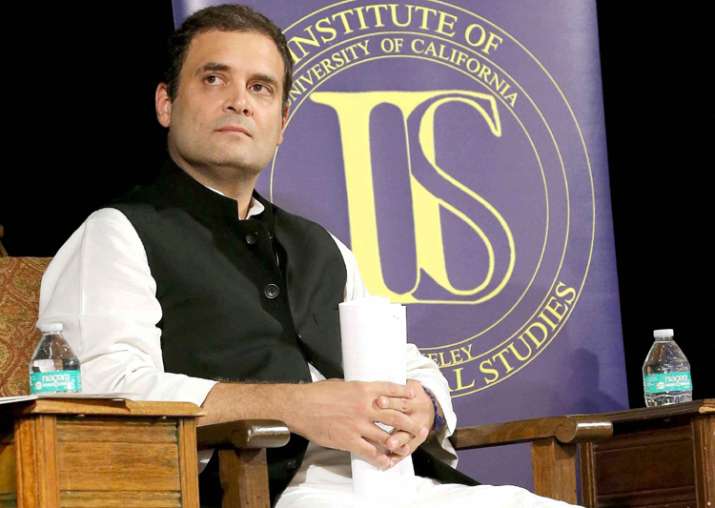 Congress vice president Rahul Gandhi brushed off suggestions that his party is synonymous with dynastic politics, saying 'dynasties are a fact of life in India, whether it be in politics or business'. Speaking at the University of California, Berkeley, Rahul insisted that the real test of a person is not pedigree but ability. 
Responding to a question, Rahul said that he was 'absolutely ready' to be the party's prime ministerial candidate for the 2019 general elections. He, however, quickly added that the final decision will only be taken by the party high command. This was for the first time the Gandhi scion publicly affirmed his readiness to be the Congress choice for the top post.
"Most parties in India have that problem So...Mr Akhilesh Yadav is a dynast. Mr Stalin (son of M Karunanidhi in DMK) is a dynast... even Abhishek Bachchhan is a dynast. So that's how India runs. So don't get after me because that's how they India is run. By the way, last, I recall, Mr Ambanis are running the business. That's also going on in Infosys. So that's what happens in India," Rahul said as he listed several prominent Indians born into famous families. 
"And I can name them in every state. There are also people who happen to have a father, or a grandmother or a great grandfather in politics. They do exist."
The Congress leader's comments in the US set off a chorus of protest by the BJP in India with Union Minister Smriti Irani calling him a 'failed dynast' and a failed politician. 
Irani reminded him that the top three constitutional posts in the country are held by common people with merit and that democracy is not beholden to dynasty. "The fact that he (Gandhi) says that dynast and dynasty are the very fulcrum in India is itself an anomaly. The three dignitaries (President, Vice President and Prime Minister) in the highest constitutional positions today are in themselves an indication that Indian democracy thrives and gives opportunity to merit and is not beholden to dynasty."
Rahul also hit out at Prime Minister Narendra Modi, accusing him of divisive politics, creating space for terrorism in Jammu and Kashmir and ruining the economy. 
Speaking about the reason for his party's debacle in previous elections, Rahul said that his party had around 2012 'stopped having conversations with people' and thus it caused problem for it in the 2014 general elections.
"In around 2012 arrogance crept into the Congress and we stopped having conversations with people that led to the party's loss in the last poll. For rebuilding the party, we need to design a vision that we can use moving forward. Most of what the BJP (government) is doing, is what we once said," Rahul said.
On demonetisation drive, he said that the decision to scrap Rs 500 and Rs 1,000 currency notes on November 8 last year and the 'hastily implementation' of Goods and Services Tax (GST) regime caused tremendous damage to the Indian economy. "The decline in economic growth today is worrying and it's leading to an upsurge of anger in the country. The government's economic policies, demonetisation and hastily applied GST have caused tremendous damage. Millions of small businesses were simply wiped out as a result of demonetisation. Farmers and manual labourers who use cash were hit extremely hard. Agriculture is in deep distress and farmer suicides have sky rocketed across the country. Demonetisation, a completely self-inflicted wound, caused approximately two per cent loss in India's GDP."
"Decisions like demonetisation which removed 86 per cent of cash from circulation overnight and was carried out unilaterally without asking the Chief Economic Advisor, the cabinet or even Parliament imposes a devastating cost in India," he added.
Criticising the Prime Minister Narendra Modi and his government, Rahul said that he acknowledges Modi as a 'better communicator' than he is. "Modi has certain skills, he is a very good communicator, he's much better than me. He knows how to give a message to 3-4 different groups in a crowd, so his messaging ability is very effective and subtle."
On Kashmir issue, He gave an example of dealing with the Kashmir issue and alleged that the government had opened up the space for terrorism in the state.
"When we started, terrorism was rampant in Kashmir. And when we finished by 2013, we basically broke the back of terror, I hugged (then) Prime Minister Manmohan Singh and told him it was one of the biggest achievements." 
"For nine years I worked behind the scenes with PM Manmohan Singh, P. Chidambaram, Jairam Ramesh and others on J&K," said Rahul.