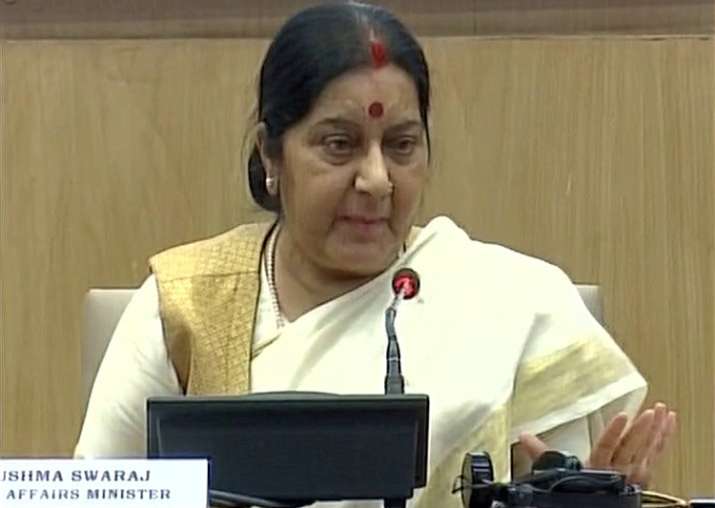 External Affairs Minister Sushma Swaraj today retorted to US President Donald Trump's remark that 'India was the biggest beneficiary of the Paris climate accord', saying 'New Delhi was not greedy for foreign monetary aid' and that the 'this endeavour was completely baseless and unfortunate'. 
Addressing the annual press conference of her ministry here, Swaraj also ruled out that the decision taken by Trump will affect Indo-US ties. 
"India has signed the Paris accord because of Indian culture and ethos. India and Indians have had a oneness with nature for thousands of years. So for some to say that India has signed the agreement because of being pressured or because of greed for foreign aid in this endeavour is completely baseless and unfortunate. I would like to officially make this clear," she said.
"No change in India-US ties despite Trump's move on Paris climate agreement," she added. 
Swaraj also took the opportunity to reiterate India's stand on the pact, saying, "India has always respected, even worshipped nature. We will be committed to the Paris agreement irrespective of what the United States decides." 
Trump had last week announced his long-awaited decision to fulfil a campaign pledge and pull out of the Paris climate accord. The deal was signed in 2015 between more than 190 countries to reduce their carbon emissions.
Trump had even said that India and China were the biggest beneficiaries of the deal. The US now stands with Syria and Nicaragua who have opted to remain out of the agreement. 
To a question related to China once again hurting India's NSG membership, she replied: "We are talking to China on the issue. India also wants countries which back its bid for NSG membership to talk to China for Beijing's support."
'Pak can't take Kashmir to ICJ'
On Pakistan, Swaraj said that her 'government wants to resolve all issues bilaterally'. She was, however, quick to add that 'talks and terror do not go together'.
The Minister also made it clear that the Kashmir issue can only be resolved bilaterally and that third party intervention is unacceptable. 
"Pakistan can't take Kashmir issue to International Court of Justice. Kashmir can only be resolved bilaterally," she said, adding that "we are very clear, no third party mediation in talks with Pakistan"
"No flip-flop in India's policy on Pakistan," she opined.
Swaraj was replying to a question on reported remarks of Pakistani law officer that Islamabad will take the Kashmir issue to ICJ. 
On Kulbhushan Jadhav case, she said, "As long as the case filed in ICJ is not resolved, he (Jadhav) can't be given capital punishment."
Jadhav, a former Indian Navy officer, was given death sentence by a Pakistani military court, forcing India to approach the ICJ which ordered Islamabad not to hang him until final judgment is delivered by it.
When asked about the changes being made in the H-1B Visa programme by Trump administration, Swaraj said, "Yes concern is there but there are amendments that can't be made through executive order."