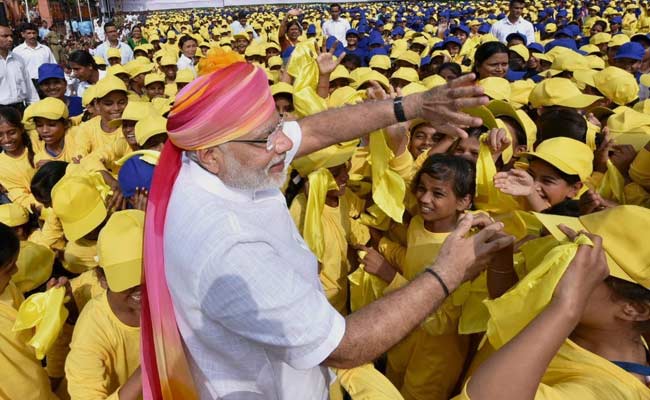 Amidst the huge crowd during 70th Independence Day celebrations at the Red Fort yesterday, there were many number of children who came to the venue in hope of being greeted by Prime Minister Narendra Modi.
And much to their cheer, PM Modi did acknowledge their presence, something which he did last year too.
As he got down from the ramparts of the 17th century monument on conclusion of his address and left at around 9:13 am, PM Modi halted his motorcade after it covered only a few metres to reach an enclosure from where children cheered him on.
PM Modi greeted and shook hands with them, breaking away from the close security cover.
Puja, a 12-year-old student from a city school, was overjoyed by the opportunity of "meeting the Prime Minister". "I had seen on TV last year how he had reached out to some students. I was expecting him to greet us today too. But as his motorcade started moving, I thought he will not greet us. But he did, and I am feeling quite happy to have greeted him," she said.
Another student, Rajesh, was disappointed that he could not shake hands with Modi as he was seated in one of the back rows. "Nevertheless, I was happy to see him from a close distance," he said.
The children were dressed in yellow and dark blue attire and formed a figure of 70, referring to the number of years since Independence. They cheered PM Modi on several times during his 90-odd minute speech.
The loudest of it came when the Prime Minister referred to India's "human" reaction to Peshawar School attack and said that "each of India's school cried that day".
Nearly 150 students were killed in the December 2014 terrorist attack at Army Public School in the Pakistan city.
(With PTI inputs)