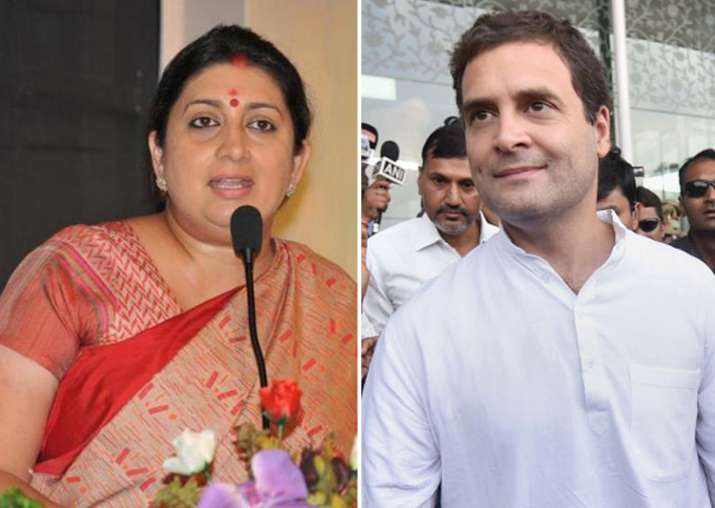 Reacting sharply to Rahul Gandhi's remarks that women were not seen in RSS shakhas wearing shorts, Union Minister Smriti Irani today said that the Congress vice president's statement was  "indecent".
She also added that if Rahul Gandhi believes that wearing shorts in India is the sign of empowerment then as a woman, she would want to contradict it. 
"Today, an indecent comment has been made on our sisters connected with the Sangh, the Rashtriya Sevika Sangh or the sisters, wives and sisters-in-law of ordinary Sangh workers," she said.
Smriti Irani's  remarks came hours after Rahul Gandhi targeted the RSS and the BJP alleging that they did not give any importance to women and asked how many of them were seen attending the Sangh's 'shakhas'.
He said in contrast, women work at every level in the Congress.
"The BJP's thinking is that till women are silent they are good, when they start speaking up they try to shut them (women) up," Gandhi said at a gathering of students here on the second day of his election campaign in Gujarat. 
"Their organisation is the RSS. How many women are there in the RSS... Have you ever seen any woman in shakhas wearing shorts?" he said in a sarcastic tone. 
"In the Congress you will see women at every level in the organisation," he said. 
Khakhi shorts were a trademark of RSS volunteers which they used to wear during their drills in the past, before they changed to full pants over an year back.  Gandhi also said that if his party's government comes to power in Gujarat, it will give importance to women and try to resolve their issues. 
The Congress leader began his second day of 'Navsarjan Yatra' in central Gujarat region from Vadodara by addressing the students. 
He addressed 10 meetings yesterday and offered prayers at the famous Santram Temple in Nadiad.  In the first leg of the Navsarjan Yatra last month, Gandhi had travelled in the Saurashtra.