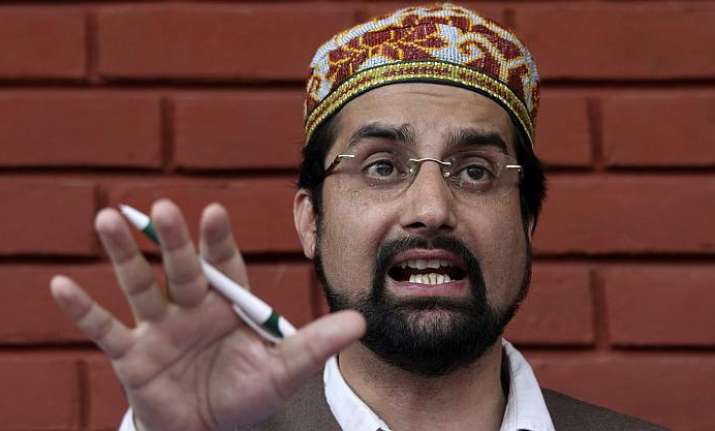 Mirwaiz Umar Farooq, chairman of the moderate faction of Hurriyat Conference, today said that they were not against dialogue but pushed for the inclusion of Pakistan in the talks.
Emerging from a meeting with a civil society delegation led by BJP leader Yashwant Sinha, Mirwaiz Umar Farooq said that the issue should be resolved through meaningful tripartite talks involving New Delhi, Pakistan and the people of Kashmir. 
 
"Let me make it absolutely clear, as far as Hurriyat is concerned, whether (Syed Ali Shah) Geelani, (Yasin) Malik or me, nobody has ever been opposed to any engagement or dialogue but the problem is dialogue for what?,"  Mirwaiz Umar Farooq said after meeting the five-member delegation at his Neogene residence. 
 
Mirwaiz Umar Farooq, however, said that the Kashmir issue cannot be resolved unless certain realities are acknowledged.
"Our main focus is resolution of Jammu and Kashmir, acknowledgment of the fact that Kashmir is a dispute, acknowledgment of the fact that India, Pakistan and Kashmir have to work together for resolution of Kashmir issue, the fact that right to self-determination for the people of J-K is non-negotiable," he added.
  
He added that the delegation led by senior BJP leader Yashwant Sinha did not carry any mandate from the central government.
"They (the delegation members) told me that they have no mandate from any government and have come here in their personal capacity and represent the civil society. Sinha said even though he is a member of BJP, he has not been active recently and that he came here to understand the situation," he said. 
"I think he also accepted that the issue of Kashmir needs to be understood in its real perspective and addressed. Our biggest issue is that the government of India wants to change the perspective or dilute it by terming it as a law and order problem or security issue or by talking about incentives," he added. 
The moderate Hurriyat chairman said he told the delegation that Kashmir is a political issue and till this political issue and dispute is addressed in its historical context, no peace and no incentives will work here. 
 
"I told them that whenever situation like this arises in Kashmir, delegations come here but when the situation comparatively improves, the government thinks that it can militarily and forcefully control the situation. Then no one comes forward and no one talks about dialogue," he said.  
Mirwaiz said he told the five-member delegation that they have to show courage and tell the people of India the reality and what the people of Kashmir want. 
 
"...as they are here for a couple of days and will meet many other people, I am hopeful they will understand the real situation here and try to tell the truth to the people of India at least even if the government is not ready to listen," he said.
(With PTI inputs)