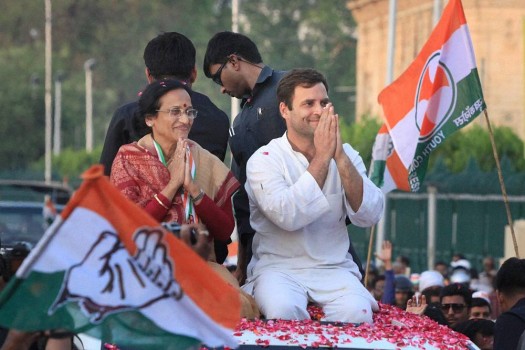 Rita Bahuguna Joshi, the former Uttar Pradesh Congress chief who joined ranks with the Bhartiya Janata Party (BJP) today, attacked Rahul Gandhi for his 'Khoon ki Dalali' remarks and said that the country would never accept him as the Prime Minister.  
"His leadership is not acceptable not just to Uttar Pradesh but to the entire nation. Even senior leaders of the state are angry. The way he should have given leadership to a national party, he failed to do it seriously. His leadership is not acceptable to the people," she said about Congress vice-president Rahul Gandhi.   
"There is no seriousness in Rahul's leadership. The country will never accept him as the Prime Minister," Joshi told reporters after joining the BJP. 
Further tearing into Rahul's leadership capabilities, she said, "Soniaji used to understand us. She might take any decision but used to listen to us. But even that is not possible under the leadership of Rahul Gandhi." 
Citing Rahul's 'Khoon Ki Dalali' remarks as one of the reasons for her leaving the Congress, Joshi said Gandhi scion's criticism of Prime Minister Narendra Modi and the Congress demand for proof made her angry.
"It was a big accomplishment of the government and of the army. I was also happy when I came to know about the surgical strikes," she said, adding what made her angry was when proof of the strikes were sought and words like "khoon ki dalali" were used.
Joshi till not long ago was known as an ardent supporter of Rahul Gandhi. 
The former Uttar Pradesh Congress Committee president Chief also took on Congress poll manager in Uttar Pradesh Prashant Kishor, saying "a poll manager can never be a poll director".
She accused the Congress of handing over the whole election management to Prashant Kishor.
"It is unfortunate that Congress has been let out on a contract. We are grassroots leaders and cannot be confined to directives. How much we talk, how long we can sit and stay at a place and what issues we can talk on were all briefed to us a day earlier," she said.
"Not only the direction of the election but the whole leadership was handed over to him. The party has lost its credibility... What can be more unfortunate than a party being given out on contact? Even powerful leaders were not allowed to speak freely," Joshi said.
Rita also attacked the other oppositions Samajwadi Party and Bahujan Samaj Party for increasing crime in the state, she said: "Several sand mining, land and liquor mafia are very much active in the state. The need of the hour is to make UP crime free and BJP is the only option."
Uttar Pradesh will go to polls next year and Congress had this time around projected former Delhi CM Sheila Diksht as the chief minister candidate.
Rita is the daughter of former Congress leader and UP CM Hemwati Nandan Bahuguna. She joined politics when she was nominated by SP as its mayor candidate from Allahabad. It was after she won that election that she quit the SP and joined the Congress.
Informed sources said Joshi was cut up with the party ever since it named former Delhi Chief Minister Sheila Dikshit as the Chief Ministerial candidate and making Raj Babbar the UP unit chief.
Joshi is likely to be the BJP candidate from Lucknow Cantt against Mulayam Singh Yadav's younger daughter-in-law Aparna Yadav.