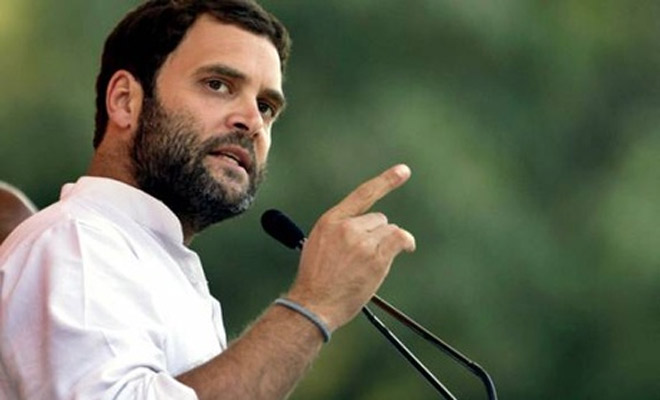 Congress vice president Rahul Gandhi today said that stones, black flags and slogans praising Prime Minister Narendra Modi would not stop the party from reaching out to the poor and helping them. Rahul faced hostile black-flag waving crowds shouting slogans in favour of Prime Minister Modi during his tour of flood-hit Dhanera town in Gujarat's Banaskantha district, forcing him to beat a retreat.
In a tweet put out shortly after the attack, Rahul said, "Black flags, stones and crowds chanting Narendra Modi's name cannot stop us. We will put in everything to help people."
His car was pelted with stones, shattering some windows.
Rahul, who arrived here on Friday on a day-long visit to flood-affected regions of north Gujarat, flew down to Dhanera straight from flood-affected Rajasthan areas and spoke to people from Manotra village as well as surrounding areas, before proceeding to the town's agriculture produce marketing yard to meet the farmers and traders there.
BJP goons attack Cong VP Rahulji's car in Lal Chowk, Dhanera, Banaskanta, Gujarat. Disgusting & disgraceful: RS Surjewala, Cong on Twitter pic.twitter.com/LebtcJgZRq

— ANI (@ANI) August 4, 2017
Later, as he reached Lal Chowk in Dhanera he met with crowds showing him black flags and shouting slogans for Prime Minister Modi while protesting against him. The Congress leader was to address a brief public meeting in Lal Chowk but it had to be cancelled after he was heckled. Police lathi-charged the people to disperse them and Gandhi left the scene.
Even as his car moved on, people pelted water pouches at his cavalcade. He later proceeded on a visit of flood-hit villages of Banaskantha district. As he was going to Dhanera helipad, his car was pelted with stones and some window panes were shattered.
Aane do aane do, yeh kale jhande yahan lagane do, ghabraye hue yeh log, koi farak nahi padta humein : Cong VP Rahul Gandhi in Banaskantha pic.twitter.com/SH5OAMXsoG

— ANI (@ANI) August 4, 2017
Rahul is to take a tour of Banaskantha and Patan districts, which are the worst affected regions in the floods in the state in 70 years. North Gujarat is otherwise a drought-prone region. Over 270 persons are estimated to have died and 4.5 lakh people affected by the floods in the state. 
Meanwhile, Congress has blamed the BJP for attack on Rahul's car. "BJP goons attack Congress VP Rahulji's car in Lal Chowk, Dhanera, Banaskanta, Gujarat. Disgusting & disgraceful. With 218 deaths in Gujarat, 61 in Bansakanta alone, PM only does an aerial visit while CM takes 5 days to visit. BJP only attacks opposition," Congress spokesperson Randeep Singh Surjewala tweeted.
Congress VP Rahul Gandhi is fine but team members are injured. #BJPGoons try to harm us, but we will only emerge stronger! pic.twitter.com/01jZmIGDcL

— Congress (@INCIndia) August 4, 2017
"Windowpanes of Cong VP's car broken in an organized attack by goons, security staff injured. BJP must know truth can't be silenced. Violence & physical attack have become BJP's culture. Congress & Rahulji get more determined to raise people's voice after every attack. Violence is the first refuse of cowards. Godse culture thrives under BJP," Surjewala said in another tweet.
Senior party leader Abhishek Manu Singhvi too alleged that the BJP workers were involved in the attack. "Are we reaching a space in our democracy where political opponents are not going to be allowed to practice democratic politics?"
काले झंडे दिखाने वाले ये लोग घबराए हुए हैं - बनासकांठा में कांग्रेस उपाध्यक्ष राहुल गाँधी #BJPGoons pic.twitter.com/MZwsapRg5G

— Congress (@INCIndia) August 4, 2017
As many as 61 persons have been killed in Banaskantha alone, while seven died due to heavy rains and flood waters following rains in upstream Rajasthan.
The Congress has set up a control room to coordinate relief work in the flood-affected regions. Party's nominee for the August 8 Rajya Sabha election Ahmed Patel, state president Bharatsinh Solanki and party in-charge for Gujarat Ashok Gehlot have visited north Gujarat. Rahul is accompanied by Solanki, Gehlot and former state president Arjun Modhwadia.