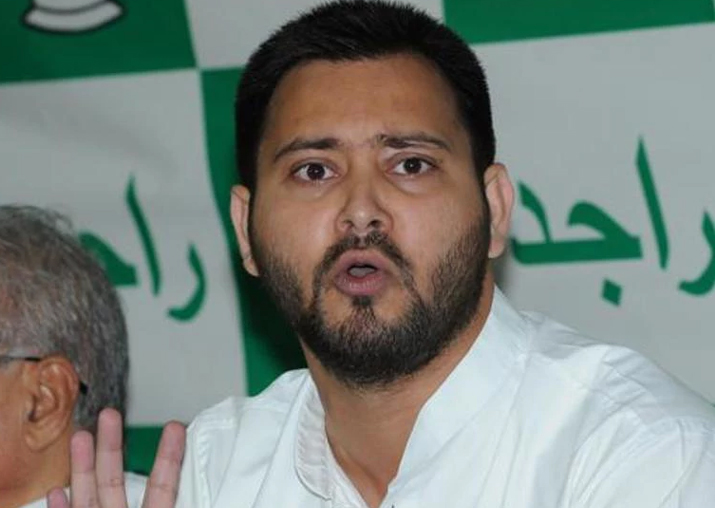 RJD leader Tejashwi Yadav on Thursday took potshots at Bihar Chief Minister Nitish Kumar over his "Vikas Samiksha Yatra" saying in the name of reviewing development works the CM is gauging his "declining popularity" after collapse of Grand Alliance ministry. 
Yadav, younger son of Lalu Prasad, who was the Deputy Chief Minister in the Grand Alliance government, claimed that the "Mahagathbandhan" comprising RJD, JD(U) and Congress had accomplished in 18 months what the NDA will not be able to achieve in rest three years of the present Assembly term. 
"The Chief Minister's Vikas Samiksha Yatra should be called a jhansa (befooling) yatra. He is not reviewing development works but his own declining popularity," Yadav, who is leader of Opposition in the state Assembly told reporters. 
The CM has launched "Vikas Samiksha Yatra" from Tuesday last to take stock of implementation of governmental schemes on the ground. 
"Instead of fooling people by launching new schemes, he should tell them how many schemes launched by him in the past have been completed," the opposition leader asked. 
He alleged that "the Chief Minister, through such yatras, has been squandering public money to boost his own image. He must make public the total expenditure on his Vikas Samiksha Yatra". 
The RJD leader also said "the ruling coalition in the state has been claiming that with the BJP being in power both at the Centre in the state, Bihar was bound to witness accelerated growth. If it has indeed happened why is Kumar wary of coming out with a report card of his government, a practice he has followed all through these years". 
"Perhaps Kumar is wary of admitting that the Grand Alliance government was performing well and that it had accomplished in 18 months what the NDA may not in the three years that remain before the next assembly polls in the state," Yadav said. 
The Grand Alliance government collapsed in Bihar in July last over graft charge on Tejaswi Yadav. Nitish Kumar later joined hands with BJP to form a coalition government in the state.