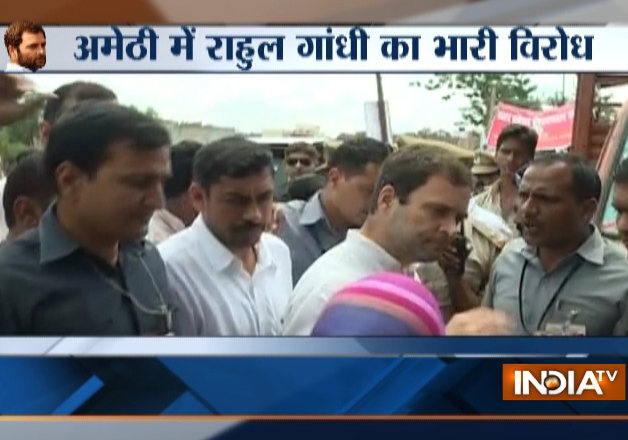 Congress vice-president Rahul Gandhi today faced protests by local residents in his own constituency Amethi where he arrived on Wednesday on a three-day visit.
Over 200 woman anganwadi workers in Gauriganj surrounded his cavalcade and raised slogans against their leader. The crowd forced Rahul to remain inside his car. SPG officials immediately rushed to his rescue and pushed back the women protesters.
Rahul's convoy was stopped by protesting anganwadi workers while he was enroute to Lucknow.
The workers alleged that Rahul had promised to raise their grievances with the government and get their salary hiked to Rs 15,000 from the current Rs. 10,000.
Protesters also said that they had submitted memorandum many times with the Amethi MP regarding their problems but he never paid any heed to them.
Hike in daily allowances, status of state government employees are among other issues which anganwadi workers have been demanding in Amethi.
Earlier yesterday, Rahul raked up the issue of multiple development projects introduced during the former UPA regime and alleged that they have been stalled by the BJP-led NDA regime at the Centre.
Rahul's visit to his parliamentary constituency assumes significance as Uttar Pradesh goes to polls next year.