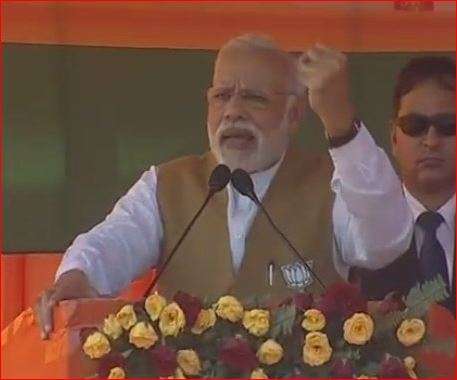 Prime Minister Narendra Modi today slammed Uttar Pradesh Chief Minister Akhilesh Yadav for following a policy of discrimination along religious and caste lines in the state.
Addressing an election rally in Fatehpur district, PM Modi alleged that every section of the UP society has been affected by the discriminatory politics of Akhilesh.
"If a village receives funds for a graveyard, then it should also get for cremation ground... If you provide uninterrupted power supply for Eid, then you should also do it for Holi," Modi said. 
Pitching for his flagship slogan "Sabka Saath Sabka Vikas", Modi also raked the issue of "migration for work", stressing the youths should get jobs in their own cities.
"In Uttar Pradesh, everyone feels that they are being discriminated and they are being denied their rights. Dalit complain that their share is given to the Other Backward Class (OBC), who in turn point finger towards Muslims and Yadavs, while Yadavs say that only the family people get the benefits," Modi said.
Modi said that the state government has been playing the politics of discrimination, while his flagship schemes benefit everyone irrespective of their caste and religion. 
He added that no one in the state can get jobs without recommendations or the bribe, and urged the people to elect the Bharatiya Janata Party for a change.
Fatehpur goes to polls on February 23 in the fourt phase of the state assembly elctions.
(With IANS inputs)