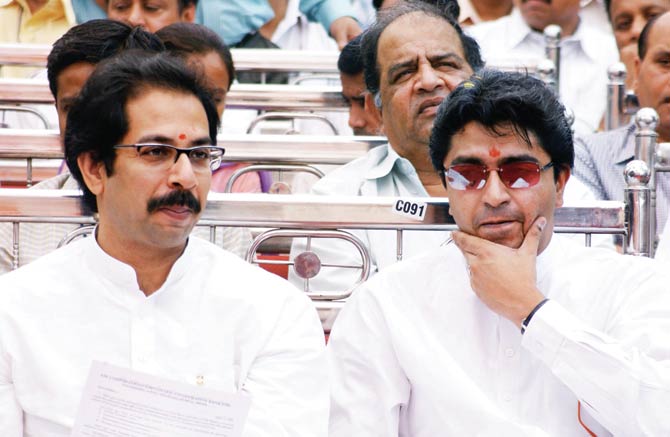 The Shiv Sena today asked Raj Thackeray's Maharashtra Navnirman Sena (MNS) not to field candidates in the Brihanmumbai Municipal Corporation (BMC) elections if it really cared about 'Marathi manus'. 
"If it doesn't field candidates then we believe MNS is thinking for 'Marathi manus', else it's apparent that MNS is BJP's B team," the Shiv Sena said in a statement.
Shiv Sena has ruled out any alliance with MNS and  Uddhav Thackeray has indicated that he is not keen on any rapprochement with his estranged cousin Raj Thackeray despite the latter showing interest in forging an informal alliance for BMC polls.
"I have not received any proposal. Anyway, the Sena is all prepared to go solo and we will win across Maharashtra," Uddhav Thackeray said. 
Uddhav's statement comes a day after MNS leader Bala Nandgaonkar went to Matoshree (Uddhav's residence) seeking an alliance with Shiv Sena. 
Uddhav, however, did not grant an audience to Nandagaonkar. The MNS leader was asked to meet Sena leader Anil Desai to whom he offered a proposal for informal alliance between the two parties. 
According to MNS proposal, Raj thackeray's party  will not field candidates in constituencies where the Shiv Sena is strong and in return it wanted  Sena  not to field candidates where  MNS has sitting corporators.