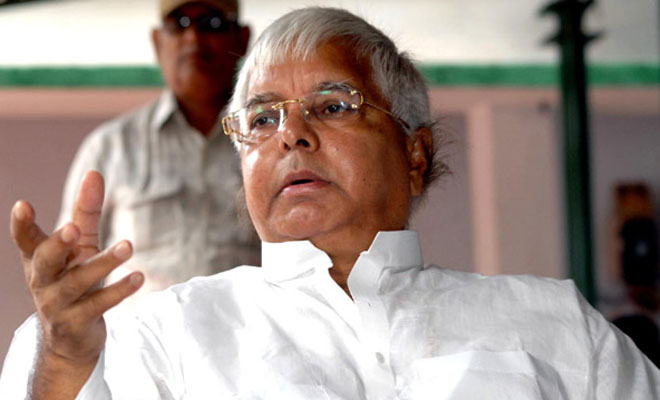 Rashtriya Janata Dal (RJD) chief Lalu Prasad Yadav today taunted Prime Minister Narendra Modi for his 'adopted son' remark and asked him to reveal the name of the father. 
"Agar PM Modi UP ke dattak putra hai, to pita kaun hai? (If Prime Minister Modi is the adopted son of UP, then who is the father?)" asked Lalu.
He further added that one cannot win polls by creating artificial relationships.
"Rishta jodne se koi chunao jeet jayega, aisa nahi hota hai (By creating artificial relationships, one will not win the polls)," Lalu said.
The Rashtriya Janata Dal chief reiterated that the Bharatiya Janata Party will be wiped out after assembly polls in Uttar Pradesh and its climb down will start for 2019 general elections. "UP mein assembly chunao ke baad BJP ka safaya ho jayega."
Lalu said that after Bihar polls, the BJP will be defeated in Uttar Pradesh, which is like the big brother of Bihar. "First, we have defeated BJP in Bihar, now SP-Congreess alliance will defeat it in Uttar Pradesh."
Lalu said BJP leaders have realised that there is no Modi wave in the ongoing assembly polls in Uttar Pradesh and they will taste a defeat similar to Bihar.
He said the BJP will similarly be defeated in Punjab, Goa and Uttarakhand.
"People of the country have identified BJP and Modi. They understood their design and agenda to fool them," Lalu said.
(With IANS inputs)