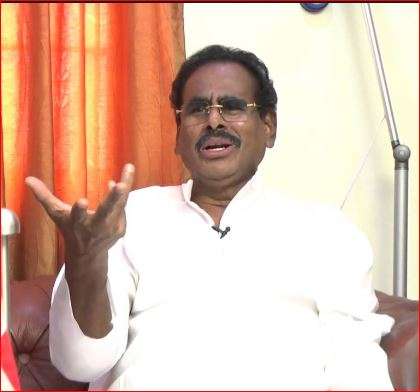 M Natarajan, the husband of jailed AIADMK general secretary V K Sasikala, today made it clear that he will always remain a backroom man in the ruling party of Tamil Nadu. 
Hitting out at former Tamil Nadu Chief Minister and dissident AIADMK leader O Panneerselvam, Natarajan said that "no one" can destroy the party.
"I will always remain behind in the AIADMK party's activities and will be silent... Nobody can destroy the party, " Natarajan said while presiding over a function to celebrate the birth centenary of party founder M G Ramachandran and 69th birth anniversary of J Jayalalithaa.  
Natarajan held opposition DMK responsible for the ruckus in the Assembly on February 18 during the trust vote.
Taking pot-shots at dissident leader Panneerselvam, he narrated an anecdote of a dead elephant being swarmed by "insects" and asserted "we will not allow bad elements in the party."
Earlier, he handed over an ambulance donated by a private foundation and 'Thanjai Tamil Sangam' to the poor and inaugurated a blood donation camp and donated blood.
Last month, Natarajan had claimed that his family had protected Jayalalithaa after the death of former Chief Minister M G Ramachandran.
His family had made sacrifices for the late leader and stood by Jayalalithaa till her death, Natarajan had said.
(With PTI inputs)