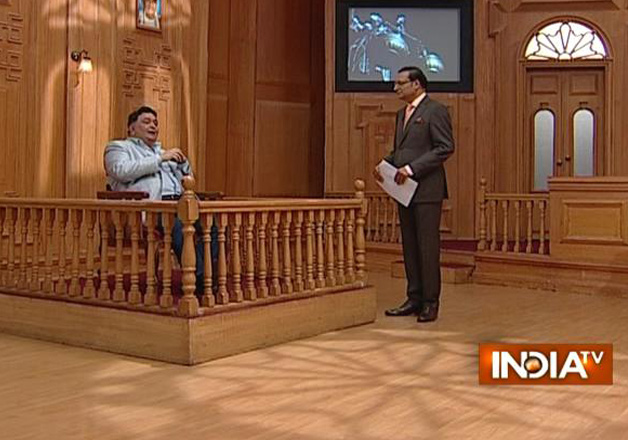 New Delhi: Bollywood actor Rishi Kapoor has said that he did not question the naming of public assets after Gandhi-Nehru family in order to get favours from the Modi government.
Replying to questions from Rajat Sharma in Aap Ki Adalat show, to be telecast tonight on India TV, the Kapoor family scion said: "I have no aspirations to become a politician, nor did I say this to please the ruling party. I was neither trying to impress anybody, nor do I seek Padma award or Rajya Sabha membership. I respect the Gandhi-Nehru family which gave us leaders of great calibre like Pandit Nehru, Indira Gandhi and Rajiv Gandhi.
"What I said was,  whether we should name all our national assets  in every city of India after a single family. Don't we have eminent people who built cities and our great country? The Kapoor family has been a supporter of Congress every time, but the issue is that sycophants in the party are trying to name all public assets to please the family...We have many politicians, like Sardar Patel, Ambedkar, Lokmanya Tilak, Bhagat Singh, who gave their life for this country."  
Rishi Kapoor pointed out that the Bandra-Worli Sea Link in Mumbai was opened in 2009, while Rajiv Gandhi died in 1991. "Why wasn't it named after JRD Tata, who contributed so much to our country? I was told, in Delhi city alone, there are 64 national assets, which are known by their names. Is it necessary to name every stadium, airport and public places after a single family?"
Asked about his recent praise of Prime Minister Narendra Modi's speeches, Rishi Kapoor replied: "I feel, whatever Modiji is saying is correct. My only request to him is that, he should fulfill his promises soon. I am patiently waiting and I am hopeful he would definitely fulfill."
Rishi Kapoor also praised HRD Minister Smriti Irani's speeches in Parliament saying she made "emotional and courageous" speeches, "though I do not know the veracity and truth of what she said. But she definitely convinced everybody."
Asked about how he felt about Congress leader Rahul Gandhi's speeches, the actor said: "I like Rahul Gandhi's style, but he did not say any such thing over which I could tweet."
Asked why he was never given the Padma award by the previous Congress regimes, Rishi Kapoor said: "Yes, I learnt this after working (in films) for 44 years. Now even the age of getting an award is over. But my regret is that even Shammi Kapoor was not honoured. It's sad. In our government, a person is awarded only if one has a pull in Delhi. They do not give awards to deserving persons."
When Rajat Sharma pointed out that trolls on Twitter were calling him a 'Modi-bhakt', the actor replied: "Yes I am a Bhakt, but a bhakt of God. I do not know what connotation this word has nowadays, but yes, if so be it, yes I am."
Asked why he tweeted against prohibition in Bihar, Rishi Kapoor said: "I do not want to interfere in any political platform, but my advice is that prohibition across the world has failed. It only creates underworld and the police takes undue advantage. After all, we are a literate nation now."
Asked about when his son actor Ranbir Kapoor was going to marry, Rishi Kapoor replied: "You tell me when he is going to marry and to whom. But I can tell you one thing. If ever he marries, the wedding will be on a grand scale."
On media reports that his son had broken off his relationship with Katrina Kaif, Rishi Kapoor replied: "Yes, I have also read this. He had a relationship earlier too which broke off. Look, 'Dil Toh Bachha Hai'. In our profession, while doing scenes, actors do fall in love, myself included."
The veteran actor lashed out at Bollywood stars who flaunt their six-pack abs. "I agree, fitness is a priority, but most of stars are busy building up their muscles, but appear weak on 'acting muscles'. (Amitabh) Bachhan Saheb never built muscles, and yet played roles of an angry man. Anyway, it's good to be healthy and the present generation is health conscious."
Rishi Kapoor in Rajat Sharma's show Aap Ki Adalat will be telecast tonight at 10 pm on India TV. Repeat telecasts of the show will take place tomorrow Sunday at 10 am and 10 pm.