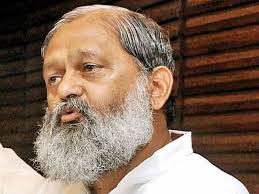 Targeting the Congress party for devising the term 'Hindu terrorism', senior BJP leader and Haryana Home Minister Anil Vij on Wednesday said that that "a Hindu can never be a terrorist and the term was used by the grand old party for taking political mileage".
Referring to the terror attacks in the past, Vij said that "those belonging to Pakistan were let off and people from India were arrested and were labelled as Hindu terrorists".
"There cannot be a terminolgy as Hindu terrorism because a Hindu can only end terrorism from the world," the Haryana minister added.
He also said that with the rising cases of terror attacks involving Muslims, the Congress wanted terrorism cases against Hindus too for political benefits.
Coined by former Finance Minister P Chidambaram, the term 'Hindu terrorism' was used to describe acts of violence motivated by members of pro-Hindu organisations close to Rashtriya Swayamsevak Sangh (RSS) and Abhinav Bharat.
He used the term after some members of the Hindu community were held in Mumbai for their involvement in the 2008 Malegaon blast case.
It was the second major attack involving members of Hindu outfits after the 2007 Samjhauta Express blasts, allegedly carried out by Abhinav Bharat, in which 68 people had died.