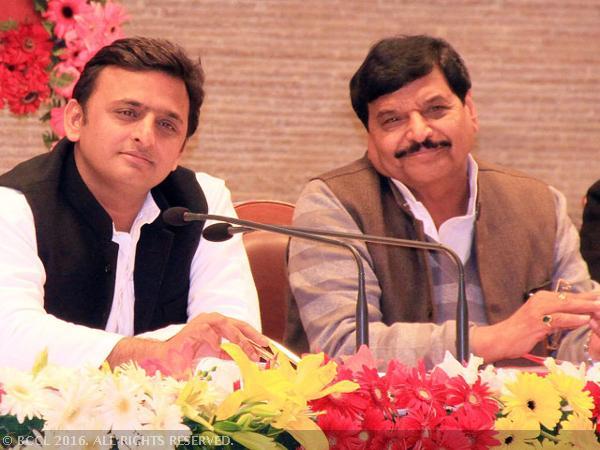 The meeting of Samajwadi Party legislators at party headquarters on Monday had many heated moments with allegations and counter-allegations.  
SP supremo Mulayam Singh Yadav, his brother Shivpal Yadav and son Akhilesh Yadav made speeches at the meeting inflicting heavy blows on each other.  
The drama-filled meeting had many heated arguments, with Chief Minister Akhilesh on one side and Mulayam-Shivpal on another.  
The most prominent among the heated moments was the one when Shivpal snatched the mic from Akhilesh while he was sharing his account of the feud and proclaimed him a 'liar'.  
Shivpal then went on to elaborate how he has been working hard to keep the party intact and has been putting in hectic tours across the state in preparations for the upcoming Assembly election.
In the audience, one of the supporters of Akhilesh pointed out that he had used a government helicopter for his travel, which meant that his efforts were backed by the Chief Minister. 
Shivpal then angrily retorted, "Helicopter kya tumhare baap ka hai, main mantri tha government mein (Is the helicopter owned by your father? I was a minister in the government)." 
On two occasions during the marathon meeting attended by Samajwadi Party leaders, Mulayam Singh, 76, shouted his son down, once asking him to shut up and later asking "tumari haisiyat hi kya hai?" (Who the hell are you?). 
While defending Shivpal Yadav, who was sacked on Sunday from the cabinet by Akhilesh Yadav along with three other ministers, and Amar Singh, Mulayam Singh, however, made it clear that Akhilesh Yadav would stay put as the Chief Minister. 
In a choking voice, Akhilesh Yadav said his father was his "guru" and he would never split the Samajwadi Party. He said he was ready to quit if his father asked him -- to end the turmoil in the party.
The 43-year-old, however, alleged a conspiracy against him and that Shivpal Yadav was a part of it. 
Shivpal Yadav then launched a scathing attack on Akhilesh Yadav, accusing him of trying to form a new party or stitch an alliance with another party.
Shivpal said he could swear by it "Ganga-jal", and on the life of his son that Akhilesh had once said he would form a new party.  
He alleged that officials refused to listen to him at the behest of the Chief Minister.  
Mulayam Singh, who threw his weight behind his brother, the party's new state unit chief, said he won't even hear a word against him. "Nobdoy can become a big leader without having a big heart."
Chiding his son for sacking Shivpal Yadav and for his diatribe against Amar Singh, Mulayam Singh said: "You all know nothing about Amar Singh. He saved me from going to prison."  
As Akhilesh Yadav rose to protest against the praise of Amar Singh, an angry Mulayam Singh asked him to shut up and sit down. 
Mulayam Singh described Shivpal Yadav as a political veteran "who can make people win and lose elections". He told Akhilesh Yadav to stop day dreaming that he alone can lead the party to victory. 
As Akhilesh supporters protested, Mulayam Singh chided them: "Tum log jitney uchal rahe ho, ek lathi padegi to uchal jaoge." 
Mulayam Singh then told Akhilesh Yadav to come and hug his uncle Shivpal Yadav and bury the hatchet. 
Akhilesh Yadav reluctantly hugged him and even touched Shivpal Yadav's feet. Soon after that Mulayam Singh announced that Akhilesh Yadav will not be removed as the Chief Minister.