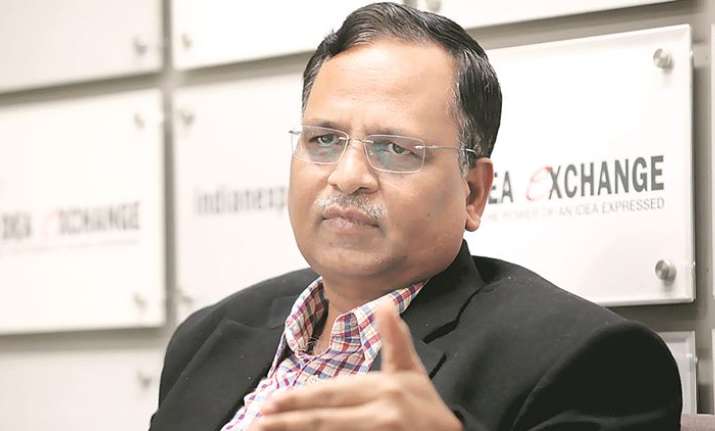 Delhi Health Minister Satyendra Jain today denied any outbreak of chikungunya in the city and asked the media to question the MCD, LG Najeeb Jung and the central government for the three deaths caused by the ongoing health crisis. 
Jain also rejected the statements of Ganga Ram Hospital, which has reported three deaths on account of chikungunya. "Chikungunya is not a life-threatening disease in general, but in can lead to complications that prove fatal, especially in children and old persons suffering from other ailments," the doctors had said.
A visibly furious Jain also came down hard on the media for creating panic on the health crisis in the city. 
"There is no outbreak (of chikungunya). It has been created by you (media) by spreading panic," Jain said, who also threw away the mobile phone of a journalist while addressing media here. 
Jain flatly denied any instance of death due to the disease. 
"There have never been any deaths due to chikungunya in the world. This is media created panic. Please don't spread panic. Prove it medically (death due to chikungunya). Medically, chikungunya can never cause anyone's death," he said in response to a question.
He further sought to shift the blame on the Centre for the prevailing crisis. 
"Two MCD mayors are out of Delhi, ask them why. Their only work is to ensure cleanliness," Jain, who just returned from Goa, told reporters. 
Jain also accused the BJP-controlled civic bodies of not taking preventive steps to control the spread of vector-borne disease. He said that the Delhi government hospitals were 'fully capable' and well equipped to treat the patients.
"It is the Municipal Corporation of Delhi (MCD) that has to take preventive steps like fogging and sanitation in the city to check the spread of dengue and chikungunya. The three civic bodies are not performing their duties properly to keep Delhi clean," the AAP leader said.
Defending his government, which has come under severe attack from opposition parties, he said that there are only 40 per cent beds under the Delhi government and that they are not denying anyone a bed and have made all facilities available to deal with such cases.
Chikungunya cases in the national capital have sharply risen to over 1,000 this season, marking a jump of nearly 90 per cent from its count last week.
Delhi CM Arvind Kejriwal has also blamed the LG and the Centre for the health crisis. 
"Your concern is not Delhi. Your concern is that we are winning other states and defeating the (opposition) BJP," Kejriwal tweeted in response to criticism that he and his ministers are absent from Delhi. 
"The CM and ministers are left with no power now, even to buy a pen. LG and PM enjoy all powers. With regard to Delhi, the LG's abroad, question him about (the chikungunya situation in) Delhi," Kejriwal said.
Meanwhile, with three deaths reported so far and hundreds infected, the city government announced an additional 1,000 beds for fever patients and a helpline number to provide information to people. 
The beds will be provided in the three nodal hospitals for vector-borne diseases - Rajiv Gandhi Super Speciality Hospital, Janakpuri Super Speciality Hospital and Deep Chand Bandhu Hospital. It also announced a Control Room with a helpline number -- 011-22307145.