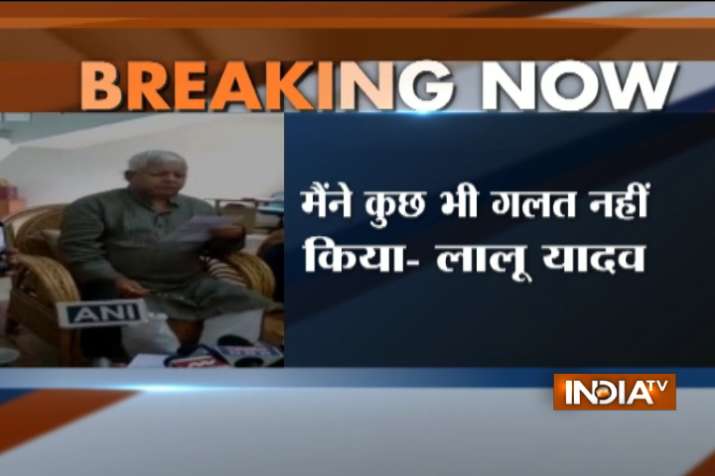 Reacting to the CBI raids, RJD supremo Lalu Prasad Yadav rejected all allegations of irregularities in awarding tenders for IRCTC hotels when he was the Railways Minister in Manmohan Singh-led UPA government and said that he did not commit any wrong.
He claimed that all decisions related to these tenders were taken during the NDA rule.
"No wrong was done in the tendering, this is a BJP conspiracy. The BJP government is striking down anyone who speaks against them,"Lalu Prasad said.
"My family is being continuously attacked as part of a political vendetta. They want us to bend before the BJP," Lalu Prasad Yadav said. 
Lalu Yadav further alleged that the BJP-led government is targeting him because he is going to hold a mega rally of major non-BJP opposition parties in Patna.
"Me and my party will not be cowed. It is a conspiracy against me," he added.
The CBI today raided properties associated with Lalu Prasad Yadav and six others including his family members  and close associates.
The CBI  registered a corruption case against them on July 5 in connection with alleged irregularities in awarding tenders of IRCTC hotels at Ranchi and Puri in 2006 when Lalu Prasad Yadav was the Railways Minister in Manmohan Singh government.