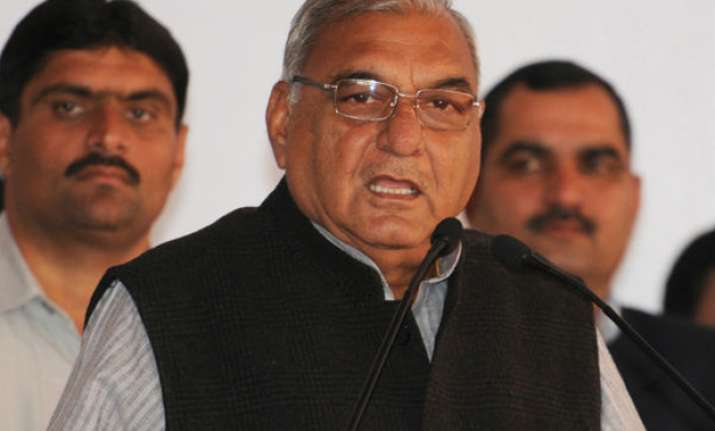 New Delhi: Maintaining that nothing wrong was done during his tenure as the CM of Haryana, Bhupinder Singh Hooda today said his summoning by the Justice SN Dhingra commission of inquiry in connection with the Robert Vadra land deal case is politically motivated.
"I will go on 25th, there was nothing wrong done during my tenure, we will tell that (to the commission)...just because someone is a relative of a big political leader, they want to politicise it," he said.
When asked if the entire episode was politically motivated, he said, "Obviously, there is no doubt in it. Everyone knows who the target is."
The Haryana government appointed Justice SN Dhingra Commission of Inquiry, set up in 2015 to probe grant of commercial licence of land to hundreds of private companies, including Skylight Hospitality and DLF, today issued summon to Hooda for joining the investigation.
The Commission has asked Hooda to appear before it within March 23 and record his statements regarding allotment of land to Skylight Hospitality, promoted by Congress president Sonia Gandhi's son-in-law Robert Vadra and, other private companies.
Last month, the Commission had summoned Haryana Chief Secretary Deepinder Singh Dhesi and officials of the private firms for recording of statement.
The commission has earlier examined retired IAS officer and member of Union Public Service Commission Chattar Singh, who was the principal secretary to in Hooda's CMO.
Singh handled files of the Town and Country Planning Department in the chief minister's office (CMO).
After being set up by the BJP government in May 2015, the scope of the commission's inquiry was widened on Justice Dhingra's advice.
Hooda was 'dean of Vadra School of Management': Swamy
BJP leader Subramanian Swamy today welcomed the Justice SN Dhingra commission's move to summon Hooda for questioning in connection with the Robert Vadra's land deal case.
While maintaining that Hooda has behaved like a 'servant' of the son-in-law of Congress president Sonia Gandhi, Swamy said, "He was the Chief Minister. For Vadra, he behaved as a servant and not as a CM of Haryana. He did everything, he gave land cheap to Vadra. He got the titles changed, the land use changed, and Vadra sold the land to prominent companies."
"Vadra made a lot of money, it is called the Vadra school of management, but the dean of that school was Hooda. He has to be prosecuted under Prevention of Corruption Act," Swamy added.