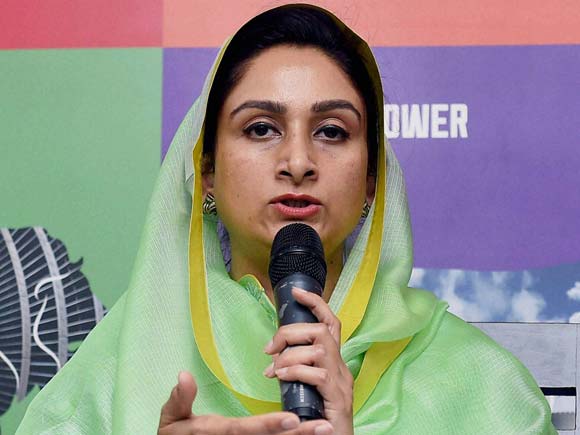 New Delhi: A day after Navjot Singh Sidhu quit Rajya Sabha amid speculations that he would join Aam Aadmi Party (AAP), Union Minister of Food Processing, Harsimrat Kaur Badal slammed the crickter turned politician accusing him of being "ungrateful" to the BJP.
"He couldn't belong to his party, who made him MP for three terms, or the Prime Minister or the President, how will he belong to the nation? People of Punjab will give an answer to him," Badal said.
"AAP party has no ideology. Earlier Sidhu ji use to call Kejriwal a dramatist. Now I don't know what he likes in Kejriwal," she added.
Sidhu on Monday has  resigned from the Rajya Sabha, only about three months after his nomination by the government, as speculation raged that he could join Aam Aadmi Party and be its face in the Assembly polls next year.
The animosity between Sidhu familiy and the Badal clan had come to fore in 2013, nearly 10 months before the Lok Sabha polls, when the television commentator launched a sit-in against SAD while accusing them of stalling disbursement of development funds for his Amritsar constituency.
In his letter of resignation from the Rajya Sabha, Mr Sidhu wrote, "In the war of right or wrong, you can't afford to be neutral."
Sidhu said there was closure of every window. "At behest of PM, I had accepted RS nomination for welfare of Punjab. With closure of every window leading to Punjab the purpose stands defeated, now a mere burden. I prefer not to carry it," he had said.