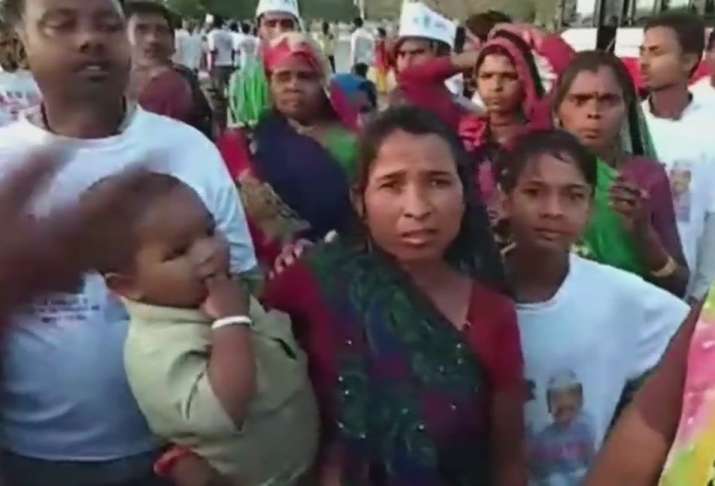 Aam Aadami Party convenor Arvind Kejriwal's rally in Haryana's Hisar left a sour taste in the mouths of those who attended. 
According to reports, several labourers who attended the rally have alleged that AAP workers promised them Rs 350 and food to attend Kejriwal's rally, but failed to provide them either later. 
"They told us that we would give dihadi (daily wage) of Rs 350 along with food and breakfast, but we have been waiting here for several hours but the money is yet to be distributed," a person wearing AAP campaign shirt told ANI.
There are several women who are also waiting for money and food, he added. 
#WATCH Labourers allege that they were promised Rs 350 each and food, to be present at Aam Aadmi Party chief Arvind Kejriwal's public rally in Haryana's Hisar yesterday but they neither got money nor food. pic.twitter.com/Qw9IJhp34w

— ANI (@ANI) March 26, 2018
Kejriwal had held the rally in Hisar yesterday to declare that his party would contest the next state Assembly polls in Haryana. During the rally, Kejriwal targeted the Centre alleging that never before had so many "bank scams" taken place under any regime since India's independence. 
Kejriwal asked the people of Haryana to reject the ruling BJP as well as the opposition Congress and the INLD. 
He claimed both the BJP governments at the Centre as well as in Haryana had failed the people. 
Kejriwal also accused the BJP of dividing people along communal lines. The AAP national convenor, who hails from Haryana, asked the people of the state to strengthen his party. Only you can build a new Haryana, he said. 
AAP will contest the next elections, he said referring to state Assembly elections.