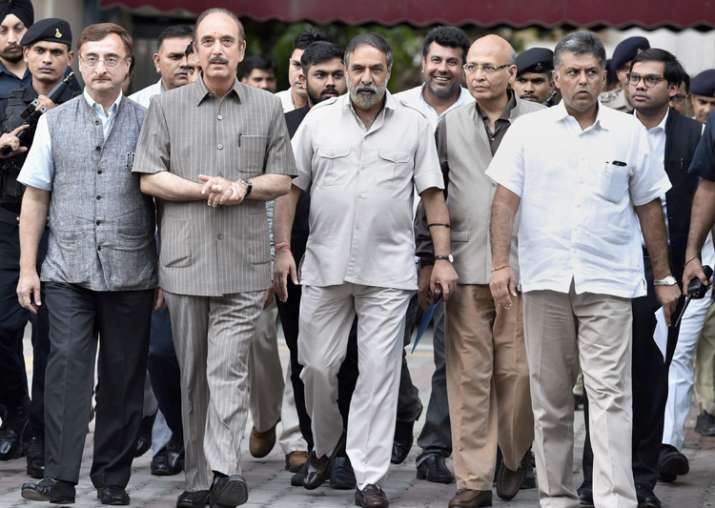 The Election Commission (EC) on Saturday sought a report from the Gujarat government over Congress' allegation that the BJP was "engineering" defection of its MLAs ahead of the Rajya Sabha elections. 
An EC spokesperson said the Gujarat Chief Secretary has been asked to furnish a report to the poll panel in this context by the evening (5 pm) of July 31.
"The report has been sought on the allegation made in the memorandum submitted by the delegation of the Indian National Congress today (to the Commission)," the spokesperson said.
He added that the EC has also directed the state government to "ensure proper security to all the MLAs and their family members". 
The poll watchdog's action came in the backdrop of the Congress party today petitioning it and demanding free and fair election to the Rajya Sabha from Gujarat as it accused the BJP of misuse of power and authority. 
A delegation of top Congress leaders met Chief Election Commissioner Achal Kumar Joti and demanded setting up of a high-powered committee to enquire into charges of money power and muscle power and blatant abuse of government machinery to engineer defections and give a time-bound report. 
They also handed over a memorandum against use of money and muscle power by the ruling BJP government in a bid to alter the Rajya Sabha poll result. 
"We demand to forthwith constitute a high powered committee of independent persons/officers to enquire into charges of money power, muscle power and blatant abuse of government machinery for purposes of engineering defection and resignations of INC MLAs. 
"To direct the high powered committee to afford opportunity to all the MLAs who have been approached directly and indirectly with inducements of money and positions by the BJP, so that the allegations are duly recorded and substantiated for actions in accordance with law," the memorandum demanded.
Jolted by the exit of six of its lawmakers since Thursday, the Congress on Saturday herded 44 of its remaining 51 MLAs in the 182-seat Gujarat Assembly to Bengaluru.
The Congress had also raised the issue in the Rajya Sabha on Friday and asked the Chairman to direct the Election Commission to take notice of the matter. The Chair had asked the Congress MPs to approach the EC with their grievances.