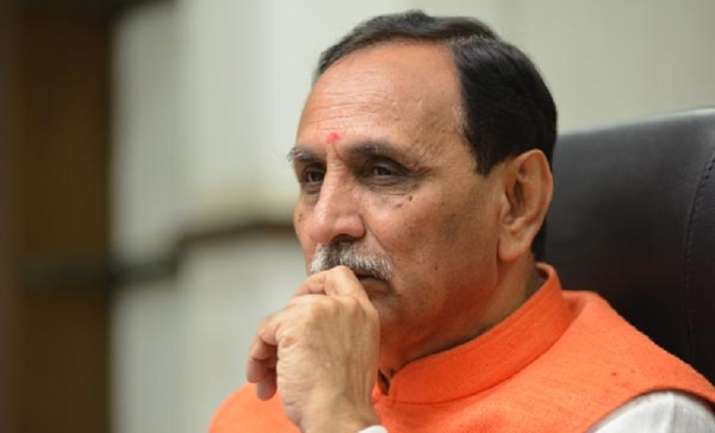 Gujarat Chief Minister Vijay Rupani on Wednesday said that the Congress won the Rajya Sabha election from the third seat in the state because two votes were invalidated and the BJP will explore legal options to challenge the Election Commission's decision.
Rupani told reporters after Congress leader Ahmed Patel won the bitterly-contested Rajya Sabha election that Congress support had actually come down from 57 MLAs to just 44.
"The Congress earlier had 57 MLAs and along with their allies they had the support of 61 MLAs. But they were reduced to 44 MLAs. Out candidate lost by just half a vote," he said.
Referring to EC's decision to invalidate the votes of two Congress rebels, he said the BJP does not agree with it.
"We don't agree with the EC's decision, we will take all possible legal action. The two disputed votes, which were invalidated, had they been counted, we would have won," he added.
He also added that the Congress in Gujarat is "split vertically and has no future in the state".
The Gujarat Assembly held elections for three MPs to the Rajya Sabha, with each candidate requiring 45 votes to win. Since the BJP has 121 seats, the election of Shah and Irani was a foregone conclusion.
The third seat, however, had become a virtual head to head fight between Patel and BJP's Balwantsinh Rajput. After accounting for 90 votes to get Shah and Irani elected, the BJP was left with 31 surplus votes for Rajput, who would require the backing of rebel MLAs of the Congress and smaller parties to win.
High drama was enacted at the Election Commission on Tuesday night over the delay in start of counting for the Gujarat Rajya Sabha elections after Congress approached the poll panel demanding cancellation of votes of its two MLAs for showing the ballots to BJP chief Amit Shah. Three delegations each of the Congress and BJP made a dash for 'Nirvachan Sadan' within a span of two hours, with the former demanding that the votes of its MLAs Bholabhai Gohil and Raghavjibhai Patel be declared invalid, and the latter insisting that counting be taken up 'immediately'.
After examining the video of voting, the poll body at 11:30 pm declared votes of two Congress MLAs who had cross-voted invalid.
Congress was the first to move the Election Commission demanding cancellation of votes of its two disgruntled MLAs for allegedly showing their votes to persons other than the authorised party representatives. According to the rules, voters for the Rajya Sabha elections have to show their ballots to authorised representative of their respective parties before casting them.