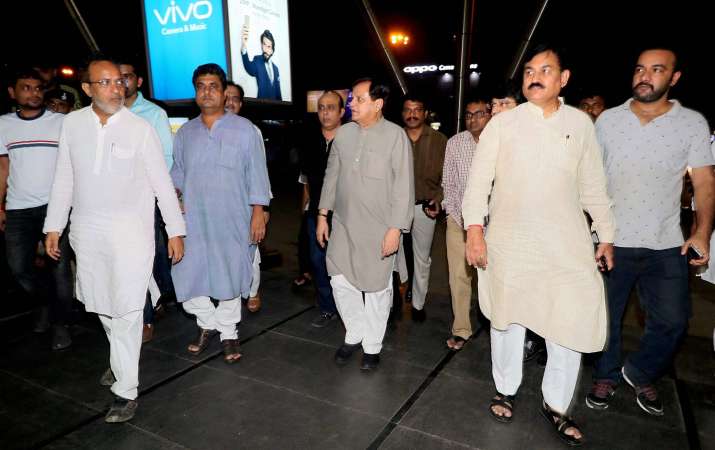 The Rajya Sabha election in Gujarat slated for tomorrow has become a high-stakes battle for the ruling BJP and the opposition Congress. The elections to the upper house from the state, where assembly polls are due later this year, have received greater attention with BJP president Amit Shah and Union Minister Smriti Irani entering the fray and the Congress putting up its heavyweight Ahmed Patel. 
The battle is set against the backdrop of dramatic political developments including the revolt in the Congress by veteran leader Shankarsinh Vaghela, resignation of half-a- dozen party MLAs and shifting of 44 MLAs to Bengaluru to protect them from what the Congress has called "poaching" attempts. 
Patel, political secretary to Congress president Sonia Gandhi, needs 45 votes to win. His party at present has support of 44 MLAs, who have returned to the state after camping in a resort near Bengaluru for over a week. On their return this morning, they have been put up in a resort in Anand district. 
Apart from Shah and Irani, the BJP has fielded Balwantsinh Rajput, who recently quit the Congress and joined the ruling party. 
Ahmed Patel confident of win
Congress candidate Ahmed Patel today said he has support of "enough" number of MLAs, including those belonging to the NCP and JD(U), to win the polls. He also accused the ruling BJP of "intimidating and torturing" Congress MLAs and their families to "trigger more defections", which forced his party to shift 44 legislators to Bengaluru. 
Patel was talking to reporters after he met the 44 Congress MLAs at Nijanand Resort located on the outskirts of Anand, where they have been put up after their return from Bengaluru. The party legislators will stay there till tomorrow morning. 
"This poll is not at all about anyone's prestige. I have full faith in my MLAs. Apart from these 44 (Congress) legislators, two of NCP and one of JD(U) would give their vote to me," he said in response to a query on how he would get the magic number of 45 to win the poll. 
"Apart from them, seven other Congress MLAs, who have not opened their cards yet, may vote for me. Even Shankersinh Vaghela has announced that he will give his vote to me," Patel said outside the resort. 
The senior Congress leader claimed that although NCP had yesterday said that it had not decided about giving support to any party, "latest reports suggest that NCP has taken a decision to support me". 
Patel also hit out at the saffron party for forcing Congress MLAs to shift their base to Bengaluru. "I do not understand why the BJP decided to field its third candidate (against him) when they are still short of 16 votes. The way Congress MLAs were targeted for defection, our democracy has been turned into a 'banana republic'. We were even kept under surveillance. Even I was kept under surveillance by the government," he claimed. 
"In a bid to trigger more defections, our MLAs and their families were intimidated and tortured. That is why our MLAs were shifted to a safer location," he added. 
Vaghela keeps mum on his choice
Former Congress veteran Shankersinh Vaghela today chose to maintain a silence on his choice of candidate for tomorrow's Rajya Sabha polls in Gujarat, but said Congress nominee Ahmed Patel remained his "friend". 
The former Gujarat chief minister said he was no longer in touch with the Congress leadership and dismissed the talks that he was in contact with the BJP members over voting in the election to the Upper House of Parliament. 
"Each and every voter is the owner of his vote. The vote is the personal property of an MLA (for the Rajya Sabha election). Therefore, I do not want to reveal whom I will vote for," Vaghela, who recently revolted against the Congress, told reporters here. 
Stating that he and Patel had been friends since 1977, the year he was elected to the Lok Sabha for the first time on a Janata Party ticket, the 77-year-old politician said, "We have been friends since then and we remain friends till now. Even today, we talked over phone. Our relationship is not limited to politics." 
NCP, JD(U) keep Congress guessing 
The Congress is banking on the support of two NCP MLAs and one each of JD(U) and Gujarat Parivartan Party (GPP). However, NCP leader Praful Patel yesterday said his party had not yet taken any decision on extending support to any particular party in these polls. 
Despite claims by Ahmed Patel, NCP sources said the party will take a decision only an hour before the voting begins tomorrow. Praful Patel held a two-hour long meeting with NCP Chief Sharad Pawar today but could not reach a final decision. Patel will reach Ahmedabad tonight and meet his party's two MLAs whose votes have become crucial for close contest.
Notably, the NCP and the JD(U) MLAs had accompanied Patel when he filed his nomination. 
Chotubhai Vasava, MLA of JD(U), has been saying that he will only support those who will give something to his constituency. 
The Congress is also hoping to win back a few of its seven MLAs, out of its total 51 in the state Assembly, who did not go to Bengaluru and are believed to be close to the Vaghela camp. This group includes the veteran leader himself. 
Numbers speak
Before former Congress veteran Shankersinh Vaghela broke ranks, the Congress had 57 MLAs in the 182-member House. Six of its MLAs subsequently resigned bringing down the party's tally to 51 and the effective strength of the house to 176. 
As per State Election Commission officials, a candidate requires one-fourth of the total number of votes plus one to get elected. This would mean a contestant has to muster 45 votes. 
Even if 44 of Congress MLAs cross-votes or uses None of the Above (NOTA) option, the Congress will require one additional vote to ensure Patel's victory. 
Four candidates are in the fray for the three vacancies to the upper house of parliament and the contest is expected to go down to the wire. 
The EC officials said the MLAs have to give their preferential votes indicating first choice, second, third, fourth (as per number of candidates) or they can choose NOTA. 
The BJP with 121 MLAs in the House can easily get its two candidates elected. 
But for the third candidate it has just 31 votes going by the party tally.
(With PTI inputs)