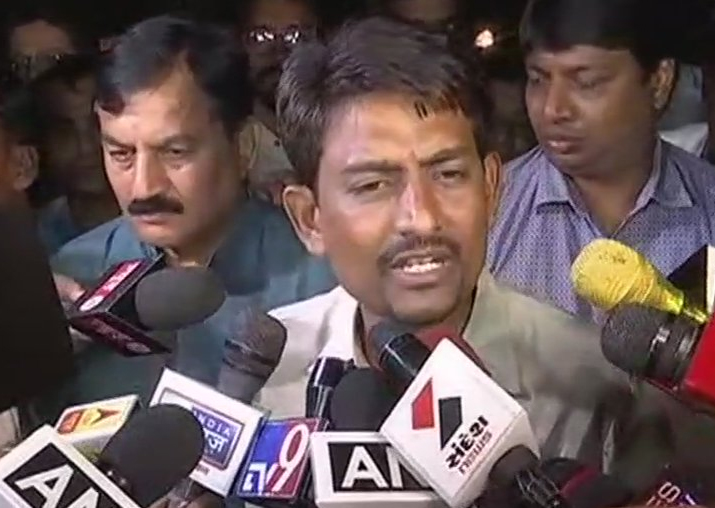 Alpesh Thakor, convener of Gujarat Kshatriya Thakor Sena and OBC, SC, ST Ekta manch, today met Congress vice president Rahul Gandhi here and announced that he will join the party on October 23.
Speaking to media person outside Rahul's residence in Delhi, Thakore said that on October 23, the Congress vice president will address a mega rally in poll bound state where he will join the grand old party.
"Rahul Gandhi would be coming to our rally on October 23 and I will join the Congress party," Thakor said. 
"It is time to throw out the BJP in Gujarat. Unemployment is a huge problem with lakhs of youngsters without jobs, more than 74,000 farmers are neck deep in debt, illicit liquor flows freely in the state despite prohibition and education and health sectors are in a total mess," Thakore told reporters.
He added, "Me, Hardik Patel and Jignesh are all going to join hands with the Congress party to defeat the BJP."
The meeting at Rahul's residence was also attended by Ashok Gehlot who is currently in-charge of the Congress party's election preparedness in Gujarat and state Congress unit chief Bharat Singh Solanki.
Earlier this morning, hoping to garner support of various communities in Gujarat polls, the state Congress invited Patidar quota stir spearhead Hardik Patel, Alpesh Thakor and dalit leader Jignesh Mevani to join hands with the party to defeat the ruling BJP. 
Replying to the Congress offer, Hardik Patel told India TV that "he is open to the officer but the Congress party should first explain how it will give 20 per cent reservation and fulfil our demands".
The Congress is out of power in Gujarat for 22 years. The state will go to polls later this year.