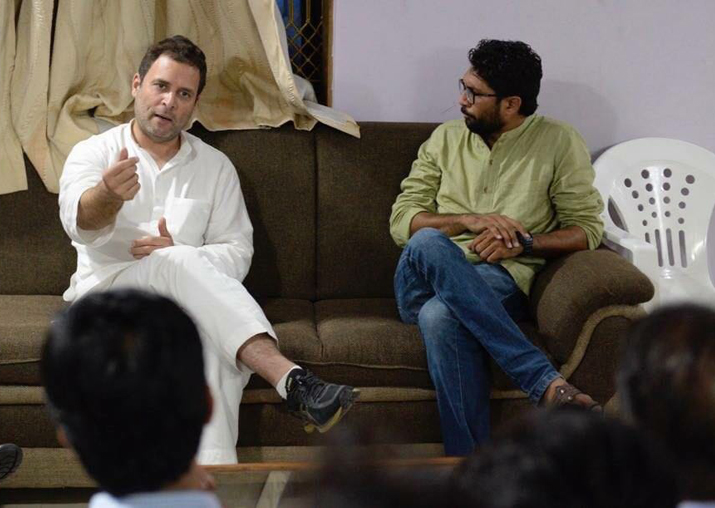 Gujarat Dalit leader Jignesh Mevani today said that Congress vice president Rahul Gandhi told him that believes  his community's most of the demands are its constitutions rights and that his party, if voted to power, will fulfil them at the earliest. 
Speaking to media after meeting Rahul Gandhi in Navsari, Mevani, who has been critical of the ruling BJP in the state, Mevani termed his meeting with the Congress leader very fruitful. 
The Dalit leader said that he extensively discussed the demands of his community with Rahul, who is currently on an election campaign tour of south Gujarat. 
"Rahul Gandhi described 90% of our demands as our constitutional rights and said that they will be included in his party's  manifesto," Mevani said.
Mevani had earlier said he would meet Rahul Gandhi only when he was called to discuss the opposition party's stand on various demands of the Dalit community.
The Dalit rights campaigner, who has dubbed the BJP "anti-Dalit", had also said he had no plans to join any political party. 
Mevani, who shot to fame after the Una Dalit flogging incident last year, had added that he was ready to meet Rahul Gandhi to know about the Congress' stand on 17 demands related to his community. 
The demands include an allotment of five acres of farmland to the Dalits, alternative employment for those involved in cattle-skinning and manual scavenging and the release of a probe report into an incident of firing on the community members at Thangadh in Surendranagar district in 2012.
Gujarat will go to polls next month in two phases -- December 9 and 14. The counting of votes will take place on December 18.