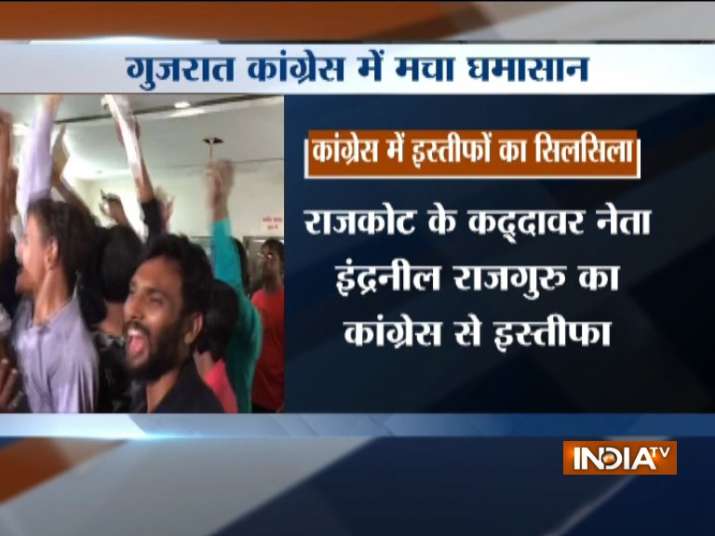 In a major setback to Gujarat Congress, 22 councillors of Rajkot Municipal Corporation resigned from the party on Tuesday.
These councillors are believed to be close to Indranil Rajguru, the Congress leader who had contested against Chief Minister Vijay Rupani in last Assembly elections, who resigned from the party on Monday.
The dissidence in Gujarat Congress intensified after the resignation of Indranil Rajguru and the resignation of these 22 councillors is also linked to the Congress leader's decision to quit the party.
Rajkot Municipal Corporation has 34 councillors, out of which 22 belonged to Indranil Rajguru's faction. 
Rajguru was reportedly unhappy because the Congress leader thought he was being overlooked by the party. 
Rajguru's unhappiness was mainly over the "overlooking" of his camp in the appointment of the new office bearers of Rajkot Congress. 
In addition to Rajguru, another prominent youth leader of Congress Nirav Baxi had also resigned from all posts of the party. Baxi was unhappy over the appointment of the new president of Ahmedabada unit.
Two other prominent leaders, Jasdan MLA Kunwarji Bawalia and Wanakaner MLA Javed Peerzada, are also believed to be unhappy with the party.
It is being said that these two MLAs may quit Congress in next few days and join the ruling BJP in the state.
Congress councillors of Rajkot are unhappy over the resignation of Indranil Rajguru. However, the BJP leaders are overjoyed with the internal bickering in the Congress.
Gujrata BJP spokesperson Bharat Pandya alleged that the Congress,  which  had imposed the Emergency in the country, is itself facing "emergency" imposed that has been inside the party.
Watch: Major setback to Congress as 22 councillors of Rajkot quit party